The HypnoLarryous Larry Silver (Boca Black Box- Boca Raton)
* The HynoLarryous Larry Silver.
Between you guys and Jeff Eats- I haven't yet seen comedian/hypnotist Larry Silver in action- have caught some of his videos but live- not yet!
Long story short, Jeff Eats and Mrs. Jeff Eats are gonna catch him at the Boca Black Box, 8221 Glades Road, Boca Raton (561) 483-9036 on Saturday Night, September 26th at 8pm.
The thinking here, if the guy wasn't top-notch, national comedy-concert producer/Boca Black Box co-owner Randy Singer wouldn't have booked Silver for a 2-night run Friday-Saturday (9/25-9/26) at his brand new 250 seat comedy/entertainment theater.
You can buy tickets at bocablackbox.com. By the way, if you enter Passcode: larrybocablackbox – you'll save 50% off ticket prices.
One final note, Jeff Eats has been to the Boca Black Box, every seat works! Trust me, if you go to one of Silver's shows- you won't miss- even one minute of watching people you know or for that matter don't know- running around the stage doing all kinds of crazy shit!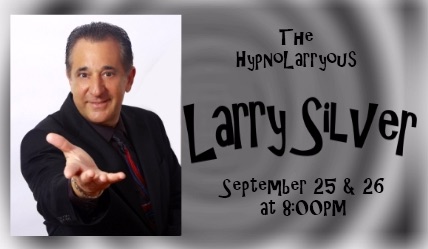 from bocablackbox.com
Join us for a "Humorous look into the Myths, Mysteries, and Misconceptions surrounding the ancient art of Hypnotism"…Larry is not just another comedy hypnotist. He combines the ART of THEATRE with Improvisational COMEDY & HYPNOSIS; allowing the Audience to volunteer to become the STARS of the Show.