September 18th National Cheeseburger Day!
This article first appeared on September 18th…quick update, last night- Jeff Eats and Mrs. Jeff Eats "tried" the complimentary Tanzy Burger- Just between you guys and me, I'm thinking for my taste- that I would have preferred the burger better- if it was simply topped with American cheese, bacon and sautéed onions- but that's just me! On the other hand, Mrs. Jeff Eats' tastebuds which are far more eclectic than mine, thought that the Tanzy Burger was dynamite and that she would definitely order it again!
* September 18th National Cheeseburger Day!
Tanzy Restaurant, 301 Plaza Real, Boca Raton, Florida 33432, (561) 922-6699, "invited" Jeff Eats to "try" this burger!
Chow time- 7:15pm
Just between you guys and Jeff Eats, every -day is sorta like National Cheeseburger Day to me- but I'm gonna play along with Tanzy anyway!
I'll let you know what I thought- comp or no comp- tomorrow!
By the way, if you want more info on Tanzy Restaurant- Jeff Eats got a 6/11/15 "review."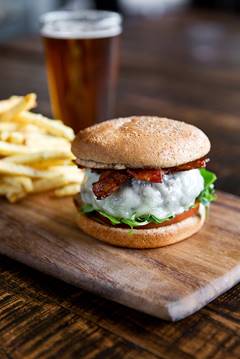 Tanzy Restaurant's bun-stuffing good burger, the Tanzy Burger, is a testament to getting all the details exactly right. It sounds simple: a wood grilled 10 ounce Angus patty with apple-wood smoked bacon, smoked Gouda, beefsteak tomato, and arugula on toasted rosemary focaccia. But like so many simple things, you've got to get it exactly right; the creamy Gouda cheese is melted so that there is a taste in every bite, the bacon is crisped to perfection, the arugula is peppery and the bun is buttery and herbaceous.
Available for both lunch and weekend brunch, this absurdly juicy burger is the best beefy bite around.
Tanzy Restaurant is open Monday-Thursday 11:30am-10pm, Friday 11:30am-11pm, Saturday 11am-11pm, Sunday 11am-10pm.
(tanzyrestaurant.com).