Free Tickets: Steve Marshall (Boca Black Box- Boca Raton)
* Free Tickets: Steve Marshall.
Got something real good for you guys…
Boca Black Box- the brand new 250 seat "live theater" which opened in Boca Raton last month- is giving away Free Tickets to Comedian- Steve Marshall's Friday– 9/18/15 & Saturday- 9/19/20 8pm shows…
All you gotta do is go to:
www.facebook.com/pages/Boca-Black-Box-Theatre/615899311849125 and ask for them!
Jeff Eats and Mrs. Jeff Eats have seen Marshall- the guy is an absolutely hilarious edgy-light blue comedian!
We got plans to catch his act- on Saturday Night!
No strings attached. No hidden fees. No tricks. No bs…free tickets, just that simple!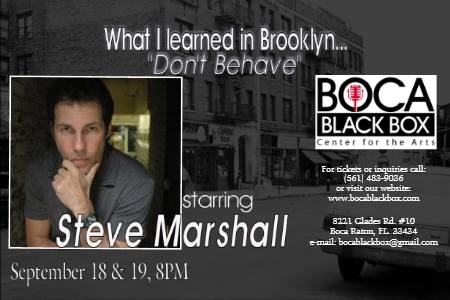 from bocablackbox.com
In Brooklyn there were Jews, Italians, Irish, Blacks and Puerto Ricans. Steve wanted to be an Italian. Italian guys were cool, drove nice cars and had the most beautiful girls. Steve was Jewish, he had a stamp collection. After graduating college, Steve took his accounting diploma, his stamp collection, and his two month supply of Benadryl and moved back to Brooklyn to do what he loved most-make people laugh.
Marshall is a gifted writer, accomplished director, talented actor and a brilliant standup comedian. Come spend an evening with Comedian Steve Marshall as he shares his heartfelt (but extremely humorous) stories about sex, ethnicity and being the only Jew in his family. Steve realized the only way to get the real me out – "Don't Behave"