Peppa Pig Live! (Melbourne, Orlando, Jacksonville, Lakeland, Estero, Fort Lauderdale, Miami Beach, Clearwater)
* Peppa Pig Live!
I-Got not freaking idea who the hell- Peppa Pig is?
All Jeff Eats knows- is that in my "neighborhood" young families and grandparents are at-this-very-minute-frantically-planning-to buy tickets for this "live" kids' show! The pre-sale starts 9/17/15 at 10am- and ends 9/18/15 at 10pm…CODE: PEPPAUS.
Look! I know Howdy Doody, Barney– Peppa Pig, you got me there!
If you want more info or tickets…peppapigliveus.com/events.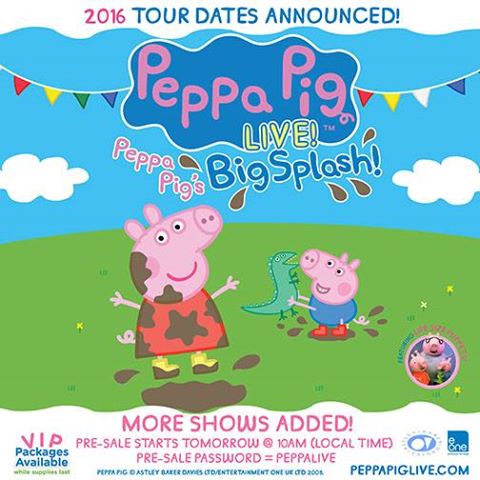 01.16.2016 Show Time: 4:00 PM King Center for the Performing Arts Melbourne, FL
01.17.2016 Show Time: 5:00 PM Hard Rock Live Orlando, FL
01.18.2016 Show Time: 5:00 PM Florida Theater Jacksonville, FL
01.20.2016 Show Time: 6:00 PM Lakeland Center Lakeland, FL
01.21.2016 Show Time: 6:00 PM Germain Arena Estero, FL
01.22.2016 Show Time: 6:00 PM Broward Center for the Performing Arts Fort Lauderdale, FL
01.23.2016 Show Time: 5:00 PM Fillmore Miami Beach Miami Beach, FL
01.24.2016 Show Time: 12:00 PM Ruth Eckerd Hall Clearwater, FL
01.24.2016 Show Time: 3:00 PM Ruth Eckerd Hall – Matinee Clearwater, FL