Universal Orlando Halloween Horror Nights 25 (Universal Studios Florida- Orlando)
This article originally appeared on August 1, 2015.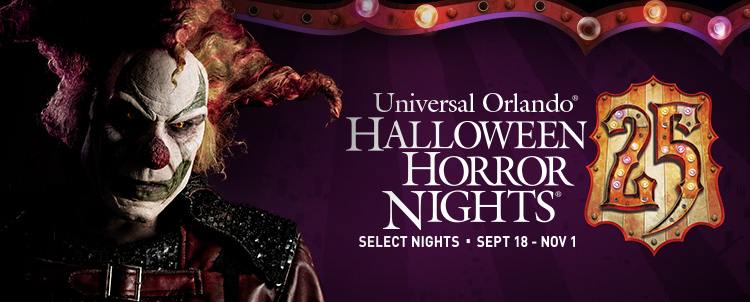 * Universal Orlando Halloween Horror Nights 25.
Jeff Eats knows that September 18-November 1, 2015 is a few months away! That said, time to back-burner Hillary Clinton, Iran's promises not to build nuclear bombs, missing Malaysian Airline-planes, Al Sharpton, confederate flags, nonsensical Donald Trump, no chance Chris Christie, the Apple Watch, Socialist Bernie Sanders and one trick Sean Hannity…and make plans to attend Universal Orlando Halloween Horror Nights 25. Trust Jeff Eats on this one, I don't care how old or how young you are, you will have an absolute blast at this "event"!
Printed down below for reference purposes- is Jeff Eats' August 26, 2014 "tale" about Universal Orlando Halloween Horror Nights 24.
Look! You're smart guys, so I know that- you can "check" halloweenhorrornights.com and figure out how to get the best deal…
Once again, forget the HOA meetings and Governor Scott's stand on abortion- and treat yourself to a real fun time!


Select nights – Sept 18 – Nov 1, 2015
from halloweenhorrornights.com
On select nights from September 18th through November 1st, 2015, the streets of Universal Studios Florida® theme park come alive with hordes of horrifying mutants, monsters and maniacs. With 25 years of experience to draw from, nobody creates a more nightmarish Halloween event filled with truly original scares and authentic horror movie moments. You can explore terrifying haunted houses, make your way through multiple scare zones where creatures lurk around every turn, enjoy outrageous live shows, and experience many of the park's most exciting rides and attractions.
Halloween Horror Nights annually draws hundreds of thousands of horror fans from around the globe. Tony Timpone, Editor of Fangoria Magazine, said, "After visiting scream parks all across the U.S. for the last 20 years, I can easily say that Universal's is the best in the business… Halloween Horror Nights is the ultimate Halloween experience."
________
Halloween Horror Nights 24 (Orlando)
Posted on August 26th, 2014 · Deals Hotels/Motels/Resorts Music/Events/Other Orlando
* Universal Orlando Halloween Horror Nights 24.
Call Jeff Eats a wild and crazy guy…but I got something for you guys-that I seriously doubt you would have ever considered on your own…UNIVERSAL ORLANDO HALLOWEEN HORROR NIGHTS 24.
Real simple concept,
On select nights, September 19- November 1, 2014…Universal Orlando stages a gigantic Halloween Horror Night. The full boat of haunted houses, "scary" characters, decorations, shows, rides, food, merchandise.
Nothing for nothing, Jeff Eats has been to 14 of these Horror Nights and I had an absolute blast at each and every one of them. Truth be told, I only had a blast at 13 of them…one Halloween Horror Night was-9 days after I had cataract surgery–the haunted houses' lights/mirrors really threw me for a loop–then again, no one ever said that Jeff Eats was the brightest goblin in the barrel. So, be smart-think twice about "doing" Halloween Horror Night 9 days after cataract surgery. As you can see from the event's title–this is Universal Orlando's 24th year-trust me on this, Universal Orlando is an absolute expert on staging this-thing.
Just so you know, the way I- played attending in the past…Jeff Eats caught a room at one of Universal Orlando Resort Hotels (Hard Rock Hotel, Loews Portofino Bay Hotel, Loews Royal Pacific Resort) on a Friday-did Horror Night and headed home late on Saturday night. For what it's worth, all three listed hotels were dynamite, with my pecking order being the Hard Rock, Royal Pacific, Portofino. Just so you know, last year Universal added another hotel to the mix-Universal's Cabana Bay Beach Resort-so you now got 4 hotels-should you want to stay on "property."
Rather than my going into detail about Halloween Horror Night, let's just say that my having done 14 of them should speak volumes.
On- tickets/info, check halloweenhorrornights.com. Also check universalorlando.com for tickets/hotels/info.
Just a heads up, be smart and "search" around-Coca Cola has a ticket promo-deal working…there is also a Florida Resident deal floating around. On hotels, the smart move is to stay at one of Universal's joints…you can walk to the "park"–real easy!
Like I said before, I love- this Halloween Horror Nights' thing.
Universal recommends 13+ on age…trust me, you'll be more scared than your 8 year old kid or grandchild is…Capice!
Kids or no kids,
I'm telling you…DO THIS THING! It's fabulous.