The Naked Magic Show (Parker Playhouse – Fort Lauderdale)
* The Naked Magic Show.
You guys gotta go see The Naked Magic Show…an absolutely brilliant magic/comedy show from Australia
Jeff Eats has seen the show- and it kills! As for the "naked" you've seen more "naked" on NBC, ABC, CBS, FOX. PBS!
Trust me on this one, you will have an absolute blast!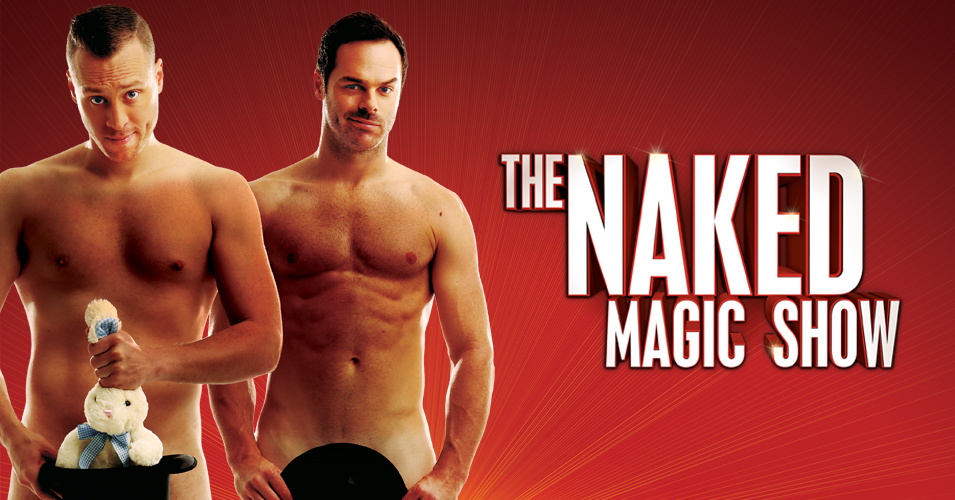 Parker Playhouse
Saturday, October 17, 7:00 PM
&
Sunday, October 18 7:00 PM
Tickets: browardcenter.com
From the creator of the biggest magic show on the planet comes the worlds naughtiest magic show "The Naked Magicians".
"The most entertaining show of the year!" – AUSSIETHEATRE.COM
"Release your inner demon and let yourself be enchanted" – THEATREPEOPLE
"It's so, so funny!" – THE COURIER MAIL
Left without sleeves or pockets, The Naked Magicians saucy magic is baffling and entertaining, bringing a new meaning to "now you see it".
This boisterous R-rated magic show, strips away the top hats and capes, promising full frontal illusions. Good magicians don't need sleeves and great magicians don't need pants. This show proves just that.
The show features magic, mirth and more than a touch of mayhem as these two hot and hilarious magicians say abracadabra and take magic to a whole new level.
______
The Magicians:
MIKE TYLER
Mike Tyler is an outstanding magician, mentalist, and comedy hypnotist who combines insane sleight of hand with unbelievable mind trickery. At the age of 30, Mike is considered one of Australia's premier corporate entertainers, having performed for companies such as Qantas, Channel Seven, Commonwealth Bank, Hyundai, and Network Ten. While Brisbane is his home, Mike performs his interactive magic, comedy magic on stage, and hilarious hypnosis shows all over Australia and has wowed audiences throughout Europe, Canada and USA.
Throughout his school years, Mike's focus was on his studies and his desire to be a professional swimmer (he even beat Ian Thorpe at Australian Championships as a teenager!). It wasn't until after university when working in banking he discovered his love for magic could become a career path as he began performing shows on a part time basis. Armed with a business mind, a competitive spirit, and a desire for attention, Mike made the decision to become a full time entertainer in 2010.
Mike added comedy hypnosis to his arsenal in 2011 after two years studying stage hypnosis from USA. While stage shows take up most of Mike's time, he also hosts a regular magic segment on Network Ten's Toasted TV and performs magic as a volunteer in the specialist clinic at Mater Children's Hospital (he keeps his clothes on!)
Mike performs over 250 shows a year for some of Australia's most successful companies, professional sporting teams, government organisations, and charities. With a cheeky personality, youthful looks, charm, a quick wit, a modest ego, and some incredible sleight of hand, Mike is a very successful entertainer in his own right and is considered one of the best close-up magicians in Australia.
CHRISTOPHER WAYNE
Christopher's journey into the entertainment industry is different from the standard showbiz story… At the age of 21 he was employed at Arnott's biscuits as a factory hand, weighing ingredients. One day at work after what can only be described as a "Nasty Cocoa Accident", Christopher decided to pursue his life-long nerdish interest in the art of magic (he was already a master of making biscuits disappear). A hobby soon became an obsession, the obsession became a job, and the job became an adventure that would change his life.
Now at 30, Christopher Wayne is one of Australia's leading entertainers.
With over 200 international shows a year, he is best known as the magician from Channel 10's Toasted TV, and has appeared with his magic on many other TV shows including Sunrise, Totally Wild, the 7PM Project and was the first magician in Australian TV history to have his own TV show, More Than Magic, which had successful runs in New Zealand, England and America.
Aside from his performing schedule, Christopher is known in Australia's TV and Radio community as one of the most gifted comedy writers around, a skill that became very handy when creating The Naked Magicians.