The Freestyle Music Fest ( Mizner Amphitheater- Boca Raton)
* The FREESTYLE MUSIC FEST.
If the names "don't ring a bell" checkout- You Tube…some of the biggest recording artists of the 70s & 80s are hitting the Mizner Park Amphitheater stage on Saturday Night, October 10, 2015 starting at 4pm…
Jeff Eats and Mrs. Jeff Eats will be there- keep it to yourselves, I absolutely love Shannon's "Let the music play"- but that's just me!
Gonna be a huge and I do mean HUGE crowd out there!
Just a heads up, groupon.com recently had a deal- which discounted tickets something like 30 percent- that deal ended, but before running-out to buy full-price tickets, Jeff Eats would suggest that over the next 30 days- that you keep an eye on groupon.com, goldstar.com and livingsocial.com and see if new "deals" are listed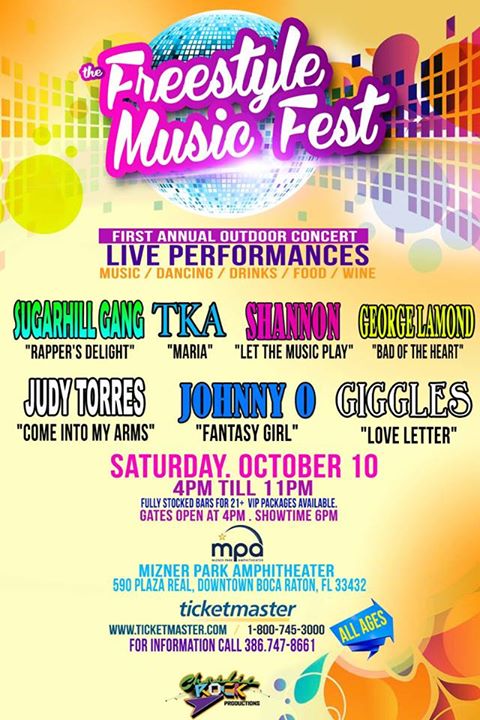 FREESTYLE MUSIC FEST: Presented by Charlie Rock Productions
Featuring: Sugarhill Gang, TKA, George Lamond, Judy Torres, Johnny O, and more…
Saturday, October 10th, 2015 4:00PM Gates Open, 6:00PM Showtime
The Freestyle Festival is an event where many of the genre's top Artists come together and perform their classic 80's hits of this wonderful era. This will be an outdoor event with live DJ music, food, drinks, wine and much more. Gates will open at 4pm and Showtime will be at exactly 6pm all ages are welcomed.
The top Freestyle Artist will take the stage and perform all your favorite Freestyle songs live, it will be one of the biggest concerts of the year.
The legendary line-up features: Sugarhill Gang "Rappers delight" TKA "Maria" Giggles "Love letter" George Lamond "Bad of the heart" Judy Torres "Come into my arms" Johnny O "Dreamboy Dreamgirl" Shannon "Let the music play" "Give me tonight" Music by DJ Sama & Flagship Station Power 96
Food and beverages will be available for purchase. Limited preferred parking available adjacent to the amphitheater for $20. Paid parking Free overflow parking is always available at city hall and the downtown library, a short walk from the amphitheater. For information call: (386) 747-8661. For venue FAQs : http://myboca.us/pages/mizneramphi/faq
GA tickets are standing room only. There is a limited number of VIP upper balcony seating available with chairs.To purchase tickets: http://www.ticketmaster.com/Mizner-Park-Amphitheater-tickets-Boca-Raton/venue/107103.
_________
Freestyle Music Fest
•Sugarhill Gang: This seminal collective is often credited for bringing hip-hop to the mainstream with their 1979 Top-40 hit, "Rapper's Delight"
•TKA: The freestyle trio TKA dominated New York and Miami dance clubs with the hits "Louder Than Love" and "Maria"
•Judy Torres: "The Queen of Freestyle" is known for her long-running freestyle radio show on New York's WKTU, and for mixing bouncy beats with sad lyrics
•George Lamond: The influential freestyle singer blends pop and R & B with reggaeton, bachata, and salsa on singles such as "Bad of the Heart"
•Johnny O: He's brought his impassioned tenor to "Fantasy Girl," "Highways of Love," and "Dreamboy/Dreamgirl," a duet with fellow freestyle singer Cynthia
•Shannon: Also known as the International Queen of Freestyle, this dance-pop songwriter owned the airwaves in 1984 with "Let the Music Play"
•Giggles: The Bronx-based singer hit it big with the radio hit "Love Letter," and has since traipsed across the Billboard dance charts with hits such as "Hot Spot" and "What Goes Around Comes Around"