Donut Gallery Diner (Key Biscayne)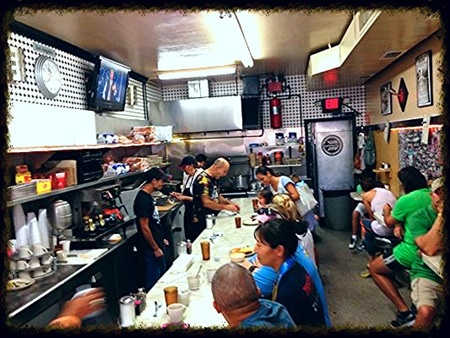 ***** Donut Gallery Diner.
First told you guys about Donut Gallery Diner on 11/21/08.
Let's cut to the chase- until yesterday morning, Jeff Eats hadn't been back since that tale- first appeared!
Long story short, Jeff Eats did- "one of these" with some black coffee and a large glass of fresh squeezed orange juice!
No ifs, ands or buts- Donut Gallery Diner is an absolute must try!
One final thing, Cash Only!
___________
Donut Gallery Restaurant (Key Biscayne)
Posted on November 21st, 2008 · American Breakfast Key Biscayne
***** Donut Gallery Restaurant, 83 Harbor Drive, Key Biscayne, Florida 33149 (305) 361-9985.
This is a real simple one.
Donut Gallery has been around for 35 years. Donut Gallery has a counter and 24-stools to sit at. Donut Gallery doesn't have donuts. Donut Gallery is a great "hole in the wall" breakfast/lunch joint which is open 7-days a week 5:30am-3pm. Donut Gallery's "house special" is a toasted buttered English muffin topped with bacon, ham, American cheese, egg and tomato…that is not to be missed.
You can check menu/prices/info at donutgallery.com.
Donut Gallery is my kind of joint! It does have one fault it's- Cash Only!