The Daily Meal's 101 Best Burgers In America 2015 (Miami, Hollywood, Islamorada)
* The Daily Meal's 101 Best Burgers In America 2015.
Now- you guys and Jeff Eats both know that "BEST LISTS" really don't mean diddly-squat…
But then again, just in case they do…45, 63, 65, 72!
You'll find The Daily Meal's entire article at thedailymeal.com.
By the way, right below is a photo of #1…Jeff Eats has had this burger twice, #1- not even close- but that's just my call!
#1 Black Label Burger, Minetta Tavern, New York City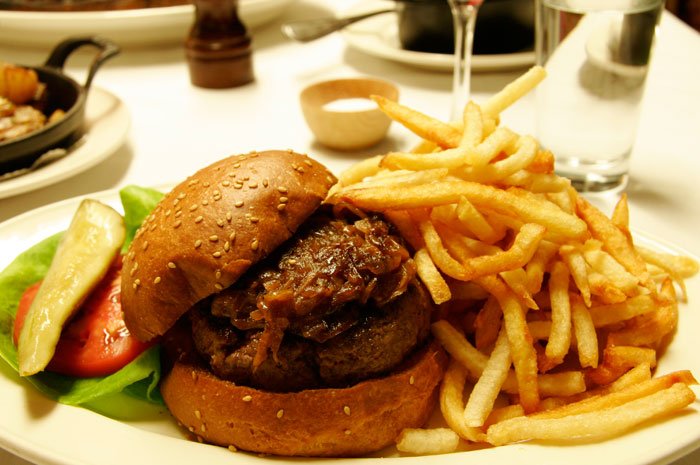 _____________________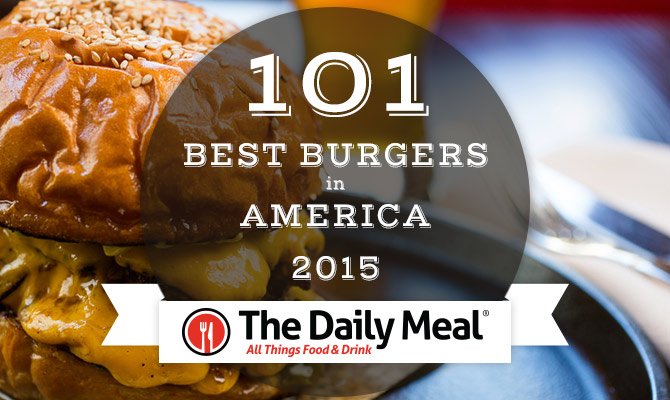 The 101 Best Burgers in America
"Our expert panel has spoken. Did your local favorite make the list?
June 4, 2015 | 03:21 AM By Kate Kolenda, Editor
This year's list of the best burgers in America spans the country, from sea to shining sea.
The burger is one of the staples of American popular cuisine. The simple recipe allows for considerable creativity from the chef who's making it, and there are thousands of variations, from one end of the country to the other. And when done properly, there are few foods more delicious.
The 101 Best Burgers in America
In a recent interview, meat-blending master Pat LaFrieda shared some of the key characteristics of the foundation of a great burger: the patty. LaFrieda has found that "An eight-ounce burger, inch-thick, is perfect for a barbecue — it can get a good sear without overcooking it." What it's actually made of, or not made of, matters, too; the butcher likes to keep it an all-beef affair and thinks that mixing in additions such as beans and red peppers makes it "taste like meatloaf. It no longer tastes like a burger." Finally, not all meat blends are created equal, and he warned us that the meat-to-fat ratio should be 80/20 because "Anything else is a marketing ploy."
We at The Daily Meal began ranking our country's burgers back in 2013, when we detailed what we had found to be the 40 best, and last year, we took it up to a comprehensive 101. In order to compile this year's ranking, we assembled a list of nearly 250 burgers from all across the country, from Hollywood, Florida, to Anchorage, Alaska. Building upon last year's suggestions from various authorities on the subject, we dug through online reviews and combed existing best-of lists, both in print and online, that were published since our 2014 burger ranking. Even though each of the burgers we found was unique, certain qualities were universal must-haves: high-quality beef (you'll find no turkey or black bean burgers here), proper seasoning, well-proportioned components, and an overall attention to detail that many would call "making it with love." As usual, we didn't include large chains like Shake Shack and In-N-Out — we celebrated the best chain burgers earlier this year — choosing instead to focus on smaller-time restaurant owners. We compiled a survey which was then taken by a panel of 50 noted writers, journalists, bloggers, and culinary authorities from across the country, asking them to vote for their favorites, limited to the ones that they've tried.
We divided these burgers by region and compiled a survey that was taken by a panel of 70 noted writers, journalists, bloggers, and other culinary authorities from across the country, among them Hamburger America author George Motz, along with the knowledgeable Daily Meal staff, City Editors, and contributors. Participants were asked to vote for their favorites, limiting themselves to places they've actually visited. We tallied the results, and the 101 burgers that received the most votes are the ones you'll find in this story.
This year's list spans the country, from sea to shining sea. New York City gained the most ground over last year, garnering three new spots to lead the way with 18 entries. Los Angeles edged up just slightly with one new spot to claim eight burgers joints on the list. Texas gained substantial ground; last year, there were only six burgers from the state that made the cut, whereas this year, there are five in Austin, two in Houston, and three others from smaller towns, which brings the grand total number of spots given to Lone Star State burgers to 10. Atlanta and Philadelphia each lost two spots since last year, winning three each out of 101. And San Francisco and Seattle lost ground as well. But great burgers aren't limited to just big cities; other locations include Hackensack, New Jersey; Lake Oswego, Oregon; Meriden, Connecticut; Roanoke, Virginia; and Salina, Kansas.
Regionally, the Midwest slid from eight spots to 11 this year and the Southeast also lost ground, going from 27 to 21 spots. Conversely, the Northeast held steady at 30 entries, the West gained four to bring its total to 23, and the biggest gain was seen in the Southwest, which doubled its representation from eight spots to 16.
One question is: Why do burgers hold such a high place in the American culinary psyche? We think Mr. Motz said it best when he told us that "Americans are intensely proud of their hamburger heritage, probably because it's widely known that the burger is an American invention. The burger also carries a lot of weight in the nostalgia department and is the ultimate portable comfort food available everywhere." So, did your local favorite make the list? (If not, let us know and we'll add it to our list to consider next year.) What about that burger you crave from that certain spot back in your hometown? You'll just have to read on to find out.
#101 No. 5 Double Meat "Special", Keller's Drive-In, Dallas
#100 Edmund's Bacon Egg & Cheeseburger, Edmund's Oast, Charleston, S.C.
#99 Cheesey Western, Texas Tavern, Roanoke, Va.
#98 Cheeseburger, Bowery Meat Company, New York City
#97 Slam Burger, Holiday Snack Bar, Beach Haven, N.J.
#96 Pangaea Burger, Pangaea Bier Cafe, Sacramento, Calif.
#95 Cheeseburger, Fritzl's Lunch Box, Brooklyn
#94 Cheeseburger, Paul's Da Burger Joint, New York City
#93 Smoked Burger with Barbecue Sauce, Guy's Meat Market, Houston
#92 World Famous Ground Round with Cheese, Miller's Bar, Dearborn, Mich.
#91 Dirty Hipster, Mel's Burger Bar, New York City
#90 "The Burger," Alder, New York City
#89 Cheeseburger on French Bread, Rotier's, Nashville, Tenn.
#88 The Classic Burger, Hopdoddy Burger Bar, Austin
#87 Thunder Burger, Thunder Burger, Washington, D.C.
#86 Wood Oven Burger, Essex, Seattle
#85 Cheeseburger, 4505 Meats, San Francisco's
#84 Hamburger, Pie n' Burger, Pasadena
#83 Sliders, White Manna, Hackensack, N.J.
#82 Fat Mo's Burger, Fat Mo's, Nashville
#81 The Dirty South Burger, Chuck's, Raleigh, N.C.
#80 Lola, B Spot Burgers, Ohio, Various Locations
#79 Cheeseburger, Grindhouse Killer Burgers, Atlanta
#78 Cheeseburger, Folger's Drive-Inn, Ada, Okla.
#77 Double with Cheese, P.Terry's, Austin
#76 Burger Italiano, Culina, Los Angeles
#75 Tony's Beer Battered Cheeseburger, Tune Inn Restaurant & Bar, Washington, D.C.
#74 Hut's Favorite, Hut's Hamburgers, Austin
#73 Steamed Cheeseburger, Ted's, Meriden, Conn.
#72 The Nancy Pants Burger, MEAT Eatery & Taproom, Islamorada, Fla.
#71 The All American, 2941 Restaurant, Falls Church, Va.
#70 The Burgamo, Alla Spina, Philadelphia
#69 The Burger, Company Burger, New Orleans
#68 Double Burger, Irv's Burger, West Hollywood, Calif.
#67 Tap Room Burger, Schlafly Tap Room, St. Louis
#66 Cheeseburger, Motor & Maple, Dallas
#65 Sirloin Burger, The Le Tub Saloon, Hollywood, Fla.
#64 The Filler, Giant Drive-In, Lake Oswego, Ore.
#63 Frita Cubana, El Rey de las Fritas, Miami
#62 Dirty Love Burger, Love Shack, Fort Worth, Texas
#61 Cheeseburger, Parkside, Austin
#60 Cheeseburger, Burger Joint, New York City
#59 Pretzel Burger, 3 Square Café + Bakery, Venice, Calif.
#58 BBQ Bachi Burger, Kalbi Burger, Las Vegas
#57 Cozy Burger, Cozy Inn, Salina, Kan.
#56 Onion Fried Burger, Sid's Diner, El Reno, Okla.
#55 Original Solly Burger, Solly's Grille, Milwaukee
#54 Bill's Burger, Becks Prime, Houston
#53 Motley Bleu 2.0, Dog Haus, Los Angeles
#52 Double Winstead, Winstead's, Kansas City, Mo.
#51 The Burger, J.M. Curley, Boston
#50 The Buffalo Burger, The Grind, Phoenix
#49 The DuMont Burger, DuMont, New York City
#48 Local Grass-Fed Burger, Craigie on Main, Cambridge, Mass.
#47 Half Pound Niman Ranch Cheeseburger, Mustards Grill, Napa, Calif.
#46 Hickory Burger, The Apple Pan, Los Angeles
#45 Black Angus Burger, Michael's Genuine Food & Drink, Miami
#44 The Viagra, Mr. Bartley's Burgers, Cambridge, Mass.
#43 John T Burger, The Holding Pen in Hog & Hominy, Memphis, Tenn.
#42 House Burger, The Nomad Bar, New York City
#41 Sammy's 50 Burger, Sam's Tavern, Seattle
#40 Cricket Burger, The Cherry Cricket, Denver
#39 Cheeseburger, Gott's Roadside, San Francisco
#38 Burger, Emily, Brooklyn
#37 Hamburger Fon Fon, Chez Fonfon, Birmingham, Ala.
#36 Whiskey King Burger, Village Whiskey, Philadelphia
#35 The Original Burger, Louis Lunch, New Haven, Conn.
#34 Congress Burger, Second Bar + Kitchen, Austin
#33 Cheeseburger, Cassell's Hamburgers, Los Angeles
#32 Dick's Deluxe, Dick's, Seattle
#31 The Thurmanator, Thurman Café, Columbus, Ohio
#30 Green Chile Cheeseburger, Steuben's, Denver
#29 Build-Your-Own Burger, Burger Bar, Las Vegas
#28 Griddled Burger, Edzo's, Evanston, Ill.
#27 Juicy Lucy, Matt's Bar, Minneapolis
#26 PYT Burger, PYT, Philadelphia
#25 F.T.W., Grill Em All, Los Angeles
#24 Bill's Burger, Bill's Bar & Burger, New York City
#23 Green Chile Cheeseburger, Santa Fe Bite, Santa Fe
#22 Hamburger, Perini Ranch, Buffalo Gap, Texas
#21 Big Devil, Ray's to the Third, Arlington, Va.
#20 Bash Style, Burger & Barrel, New York City
#19 Tostada Bean Burger, Chris Madrid's, San Antonio
#18 Hamburger, Zuni Café, San Francisco
#17 Bacon Cheese Burger, The Little Owl, New York City
#16 Cheeseburger, Husk, Charleston, S.C.
#15 Ben's Chili Cheeseburger, Ben's Chili Bowl, Washington, D.C.
#14 The Cadillac, P.J. Clarke's, New York City
#13 Le Pigeon Burger, Le Pigeon, Portland, Ore.
#12 The Original db Burger, db Bistro Moderne, New York City
#11 The Prime Meats Burger, Prime Meats, New York City
#10 Double Cheeseburger, Holeman & Finch Public House, Atlanta
#9 Luger Burger, Peter Luger, New York City
#8 Bistro Burger, The Corner Bistro, New York City
#7 The Office Burger, Father's Office, Los Angeles
#6 Cheeseburger, JG Melon, New York City
#5 Kuma Burger, Kuma's Corner, Chicago
#4 Double Chili Cheeseburger, The Varsity, Atlanta
#3 Chargrilled Burger, The Spotted Pig, New York City
#2 Cheeseburger, Au Cheval, Chicago
#1 Black Label Burger, Minetta Tavern, New York City