Mikes Italian New York Style Pizzeria & Restaurant- Kendall/Miami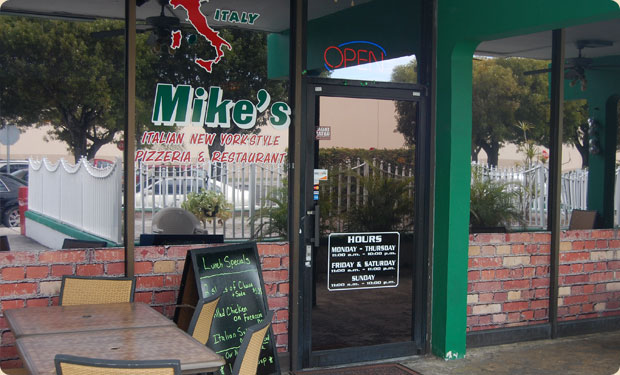 ***** Mikes Italian New York Style Pizzeria & Restaurant, 13712 Southwest 84th Street, Miami, Florida 33183, (305) 382-6200.
You guys do-know that there are more "mom & pop" Italian joints in South Florida- than there are Chins in a Chinese phonebook!
With the above in mind, I got a real good "one" for you- Mikes Italian New York Style Pizzeria & Restaurant- in Kendall…the joint has been around since 1980 and has seating inside/and outside.
When you check Mikes- website- mikespizzaofkendall.com you're gonna-find the "expected" menu loaded with appetizers/pizzas/pastas/subs/meat-chicken-seafood entrees…
A recent dinner outing of Jeff Eats, Mrs. Jeff Eats and another couple netted us- large cheese pizza, veal parmigiana sub, sausage & peppers sub, baked lasagna (ricotta cheese & meat sauce), chicken piccata, fried calamari and I gotta tell you-good stuff!
Just between you guys and Jeff Eats, I've been in a ton- and I do mean a ton of South Florida "mom & pop" Italian joints…some are dynamite, some are almost dynamite, some are good, some are just passable and some are just "meh" (people on YELP love to use that word)…
Long story short, if Mikes Italian New York Style Pizzeria Pizza & Restaurant was by my house, I'd be a-steady customer. Jeff Eats loved the thin/crisp/sweet sauce pizza and the subs and lasagna killed. Didn't really care for the calamari or chicken piccata -but you guys do know, that this food "reviewing" gig is just a game-in the first place, anyway! By the way, my friend Artie who was with me, liked the calamari- but as far I'm concerned he knows-dick about calamari, now as for pizza, that's whole 'nother story!
Mikes is my kinda restaurant…good food, reasonable prices, super friendly wait-staff, plenty of Coca Cola, shorts/tee shirt friendly. If Jeff Eats was forced to rate Mike's…somewhere between, good and almost dynamite- take the calamari and chicken piccata out of the equation- almost dynamite. Hey! I've been telling you guys for years, that "rating systems" are dumb!
If you live or work in Mikes' neighborhood, you now know about a real-good "mom & pop" Italian joint to eat-in or take-out from!
Mikes Italian New York Style Pizzeria & Restaurant is open Sunday-Thursday 11am-10pm, Friday-Saturday 11am-11pm.