The Livesays Live (Oakland Park City Hall- Oakland Park)
* The Livesays Live.
Wanna see one of South Florida's best Rock N Roll cover/originals bands?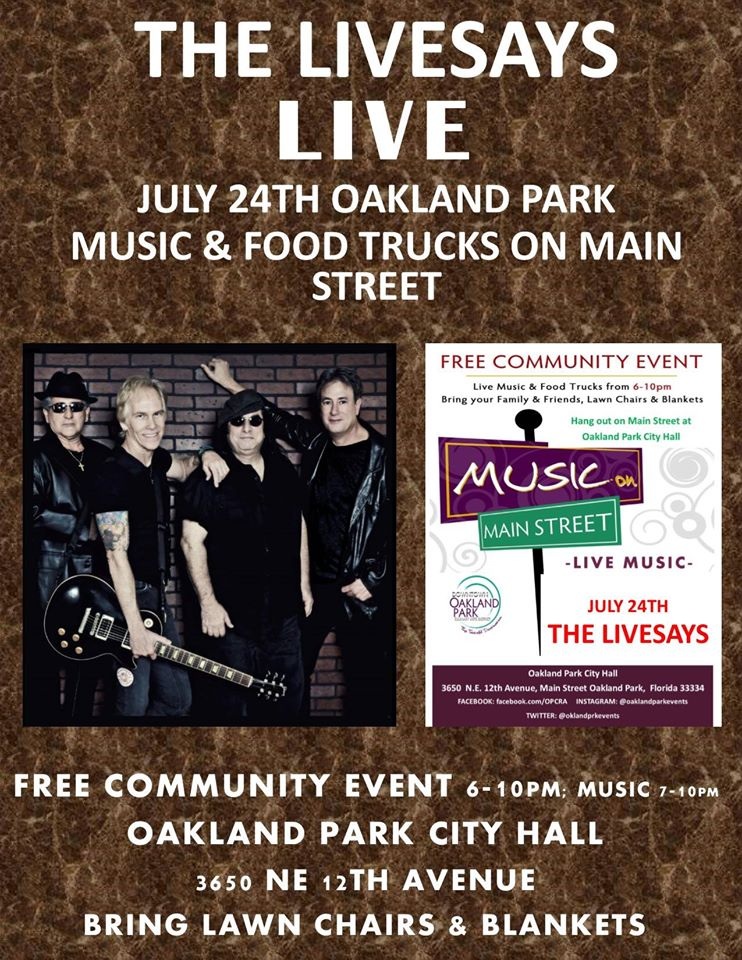 From southfloridafoodandwine.com:
South Florida Free Concert Series at Oakland Park Music & Food Trucks on Main Street.
In collaboration with the Oakland Park Culinary Arts District, South Florida Food and Wine hosts a free monthly live music concert series the fourth Friday of each month, held at Oakland Park City Hall. This free community event will host The Livesays on Friday, July 24th. Led by Billy Livesay, the band is defined as, "Take two pints Springsteen, one pint John Mellancamp, add a heaping spoonful of Beatles, a pinch of Stones, a sprinkle of Rod Stewart, a dash of Bruno Mars, beat well, bring to a boil, simmer." Based in South Florida The Livesays are sought after from the Palm Beaches to The Keys for their sexy-soulful rock, sultry piano and pounding drums. The Livesays will play from 7-10pm at Oakland Park City Hall 3650 N.E. 12th Avenue Oakland Park, FL 33334 on Friday, July 24th.
The Livesays at Oakland Park Music on Main Street July 24th
Food for purchase will be available from a variety of food trucks as well as beer, wine and cocktails will be available for purchase from the host bar, Big Dog Station.