The Daily Meal- America's 75 Best Hot Dogs For 2015
*'The Daily Meal- America's 75 Best Hot Dogs For 2015.
Now you guys and Jeff Eats know- that lists like this really don't mean squat…but we- do need things to read in the bathroom!
Jeff Eats recently caught the below article/list on thedailymeal.com and I'm thinking that some of you-might enjoy the read.
I will tell you, the Nathan's Hot Dog "pictured" with KETCHUP- yes KETChUP on it… Kinda tells me that the article/list is probably-full of crap (pun intended).
Anyway, enjoy the read!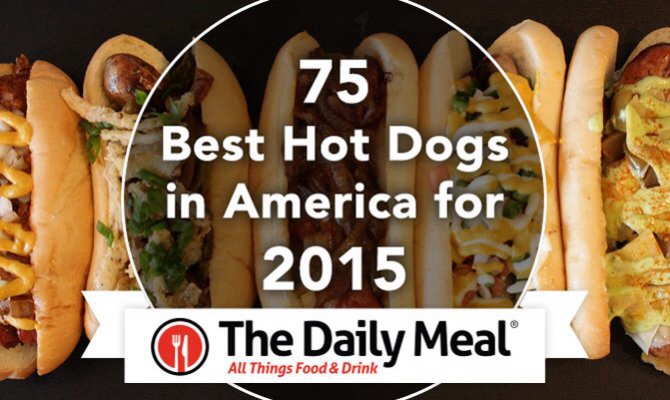 Posted on July 1, 2015
America's 75 Best Hot Dogs | The Daily Meal
On our quest to find America's best hot dogs, we started by putting a list together of hot dog places with a definitive style of hot dog, one which embodies not only the region's quirks but also the particular tastes and culinary traditions of its people. We made sure to take into account online reviews from locals as well as the dog's overall reputation among those in the know, and the quality of the ingredients — namely, sourcing the franks from well-known local producers — was also important. These hot dogs aren't being eaten in a void, either, so we took into account the entire experience, from driving up to the restaurant or stand to placing your order to taking that first bite. We also made sure to build on our previous years' rankings (find rankings from 2013 here and 2014 here).
Once we had our list of more than 200 hot dog places from across the country finalized, we built them into a survey, divided by region. We called on food writers, bloggers, and journalists from around the country to take the survey, and asked hot dog experts to submit their favorite spots for survey inclusion. The 36 survey respondents included writer Patrick Evans-Hylton, Forbes' Larry Olmsted, Food Network Star contestant and blogger Jay Ducote, and blogger Holly Moore of HollyEats.com.
[Only one Major League Baseball stadium made the list; Dodger Stadium at #65. The winner was Katz's Deli, Houston St., NYC.
by Arthur Bovino.
#75 Nathan's Famous, Coney Island, N.Y.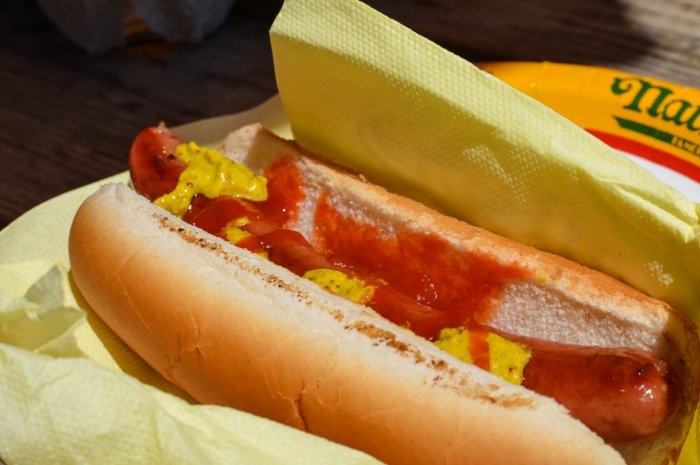 #74 Max's Famous Hot Dogs, Long Branch, NJ
#73 The Brick, Kansas City, Mo.
#72 Biker Jim's, Denver
#71 Cupid's, Van Nuys, Calif
#70 Tommy's, Elizabeth, NJ
#69 Shorty's, Seattle
#68 Martinsville Speedway, Ridgeway, Va.
#67 Gus's, Birmingham, Ala.
#66 DC-3, Washington, DC
#65 Simone's Hot Dog Stand, Lewiston, Maine
#64 Dodger Stadium, Los Angeles
#63 Clare & Carl's, Plattsburgh, N.Y.
#62 Deerhead Hot Dogs, Bear, DE
#61 Jimmy's Red Hots, Chicago
#60 Gold Coast Dog, Chicago
#59 Jimmy Buff's Italian Hot Dogs, West Orange, NJ
#58 Bob's Drive Inn, Le Mars, Iowa
#57 Otto's Sausage Kitchen, Portland, Ore.
#56 Dew Drop Inn, Mobile, Ala.
#55 Senate Restaurant, Cincinnati
#54 Skeenies, Charleston, WV
#53 Flo's, Cape Neddick, Maine
#52 Frank, Austin, Texas
#51 Texas Hot Dogs, Altoona, Pa.
#50 J. S. Pulliam Barbecue, Winston-Salem, N.C.
#49 Memphis Taproom Beer Garden, Philadelphia
#48 Gray's Papaya, New York City
#47 Vienna Beef Factory, Chicago
#46 Griddler's, Boston
#45 Shake Shack, Multiple Locations
#44 Coney I-Lander, Tulsa, Okla.
#43 The Varsity, Atlanta, Ga.
#42 Puka Dog, Multiple Locations, Hawaii
#41 Dog Haus, Pasadena, Calif.
#40 I Dream of Weenie, Nashville, Tenn.
#39 Hot Dog Heaven, Orlando, Fla.
#38 Good Dog, Houston
#37 Wolfy's Double Dog, Chicago
#36 Yesterdog, Grand Rapids, Mich.
#35 Famous Lunch, Troy, NY
#34 Mustard's Last Stand, Evanston, Ill.
#33 Happy Dog, Cleveland
#32 James Coney Island, Houston
#31 Blue Ash Chili, Cincinnati
#30 Texas Weiners, Philadelphia
#29 Johnnie's Dog House, Wilmington, DE
#28 El Guero Canelo, Tucson, Ariz.
#27 Devil Dawgs, Chicago
#26 Franks 'n' Dawgs, Chicago
#25 American Coney Island, Detroit
#24 Portillo's, Chicago
#23 Schaller's Drive-In, Rochester, N.Y.
#22 Coney Island Lunch, Scranton, Pa.
#21 Gene and Jude's, Chicago
#20 Ben's Chili Bowl, Washington, D.C.
#19 Rawley's Drive-In, Fairfield, Conn.
#18 Byron's Hot Dog Haus, Chicago, Ill
#17 Superdawg, Chicago
#16 Murphy's Red Hot Joint, Chicago
#15 Dat Dog, New Orleans
#14 Super Duper Weenie, Fairfield, Conn.
#13 Walter's, Mamaroneck, N.Y.
#12 Rutt's Hut, Clifton, N.J.
#11 Olneyville N.Y. System, Providence, R.I.
#10 Jimmy John's Pipin' Hot Sandwiches, West Chester, Pa.
#9 Seti's Polish Boys, Cleveland
#8 Ted's, Buffalo, NY
#7 Bark Hot Dogs, Brooklyn, N.Y.
#6 Wiener's Circle, Chicago
#5 Lafayette Coney Island, Detroit
#4 Crif Dogs, New York City
#3 Fat Johnnie's Famous Red Hots, Chicago
#2 Pink's, Los Angeles
#1 Katz's Deli, New York City