PGA National 2015- Gourmet Pig Out Food Truck & Custom Car Show (Palm Beach Gardens)
* PGA National 2015-Gourmet Pig Out Food Truck & Custom Car Show.
Real simple tale to tell you…
Jeff Eats and Mrs. Jeff Eats went-last year (2014) and I gotta tell you that-PGA Gourmet Pig Out was an absolute blast! Just between you guys and Jeff Eats, PGA National Resort & Spa really knows how to "run" outdoor events…dynamite facility, top notch staff/classy organization!
Trust Jeff Eats on this one,
You Don't Wanna Miss…PGA National 2015-Gourmet Pig Out Food Truck & Custom Car Show!
General Admission Tickets $40, VIP Tickets $60.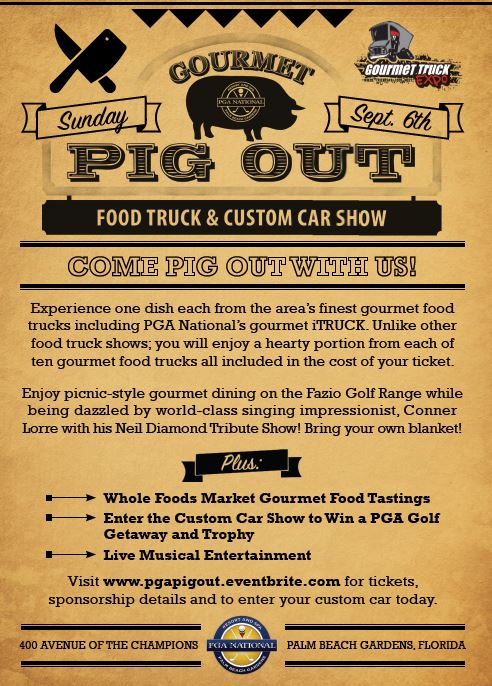 PGA NATIONAL'S PIG OUT FOOD TRUCK FESTIVAL
PGA PIG OUT | 12-4 P.M. SEPTEMBER 6, 2015
At PGA National Resort & Spa, we've been giving food truck cuisine a gourmet spin for years. The iTRUCK, which often serves as the "92nd Hole" for the resort's five championship courses, is making its appearance (again) at the annual PGA Pig Out event — PGA National Resort & Spa's very own Florida food truck festival from 12-4 p.m. September 6. General admission is $40 in advance. A portion of the proceeds benefits Wounded Warriors of South Florida.
During the event, local foodies and resort guests can sample gourmet fare from a collection of the finest Florida food trucks, including PGA National's iTRUCK. During the food truck festival, guests can check out a collection of custom cars on display, making this a must-stop on any South Florida car show list. Let's just say this event offers the best of everything on four wheels.
A FOOD TRUCK FAVORITE — THE ITRUCK
The iTRUCK offers tasty highlights from its on-site restaurants, including sliders of the meatball, lobster and pork variety. A side of truffle fries, crab fritters, buffalo bites and shrimp grits are the perfect complement. The PGA Signature Champ Burger, Mojo Fish Tacos, 91 Chicken Quesadilla and Birdie Shrimp are other iTRUCK staples. A special menu is planned for the PGA Pig Out!
BOOK THE ULTIMATE ITRUCK EXPERIENCE
To truly appreciate the iTRUCK experience, visit our "92nd Hole" after a round of golf. Consider the "Summer Escape and Play Package," which packs UNLIMITED GOLF and luxury accommodations into this $89.50 offer.* Enjoy one round of golf daily on The Palmer, The Fazio, The Squire or The Estates courses. A $75 surcharge is charged for course play on The Champion. Afterward, it's time for those famous iTRUCK sliders.