Rock The Dock (Shooters Waterfront- Fort Lauderdale)
* Rock The Dock- Shooters Waterfront, 3033 Northeast 32nd Avenue, Fort Lauderdale, Florida 33308, (954) 566-2855.
If you've been down-here in sunny South Florida for any real- length of time, most likely you "know" about Shooters…if not, and really care- GOOGLE! Long story short…something like 18 months ago, with new owners/new decor the legendary Spring Weekend bar/restaurant which has been around for over 30 years- re-opened as a semi-upscale American-Style joint…
The last time Jeff Eats and Mrs. Jeff ff Eats were at Shooters, probably 1993 give or take a year on either side of the equation…decent enough food and service- but nothing that took it out of the just-okay sports bar category.
Anyway,
Jeff Eats and Mrs. Jeff Eats are gonna try the "new" Shooters on August 1st…
Not exactly sure how this Rock The Dock "thing"" is gonna play out, but we're game…and I'm thinking that some of you guys might also like to see what's what!
You can checkout Shooters Waterfront at shooterswaterfront.com.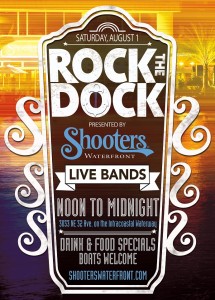 Shooters Rock the Dock: 12PM to 12 AM August 1st, 2015
Shooters Waterfront will feature live bands, drink and food specials all day, and outdoor grilling areas. The event is free and open to the public. All you need is to bring a blanket or lawn chair to enjoy the show! Guests are invited to arrive by boat and tie up to the restaurant's 340 foot deep water concrete dock. Valet and metered parking is also available. For more information, please call 954.566.2855.