Pantry Staples That Save You Money
* Pantry Staples That Save You Money.
Jeff Eats is always looking for interesting reading material to share with you guys…
Found this "piece" on usnews.com
________
Pantry Staples That Save You Money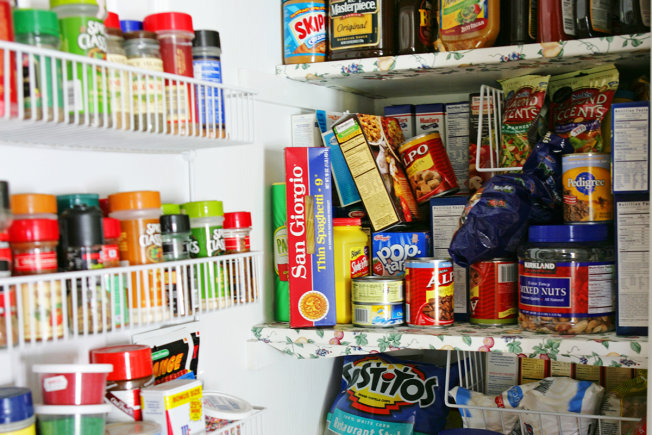 Stocking up now can save you money when it's time to cook and clean.
Organized Residential Pantry, USA AlamyHaving a well-stocked pantry can help you save money.By Jon Lal
There are a few easy ruts to get into at home when it comes to stocking your pantry. Maybe you're committed to cooking more and eating at home, but you feel like you never have the ingredients you need. Or perhaps, you feel like you're always buying expensive cleaning products – and yet you're still missing one or two things when you finally get around to spring cleaning.
By stocking your pantry with a few key items, you'll find it much easier to prepare inexpensive, delicious recipes. You'll also be surprised at just how much cleaning power a few basic items can have.
This list of pantry items will vary person to person, depending on things such as dietary preferences and allergies. But it is a good place to get started, as these ingredients are incredibly versatile and can apply to many recipes: 1.Beans (dry or canned) are a filling and nutritional legume and they're great in chili, as a side dish or added to salad.
2.Rice is inexpensive and another filling ingredient to have on hand.
3.Dry pasta will keep in a pantry for a long time and is easy to prepare. It also freezes well in lasagnas.
4.Oats are a powerful ingredient to have on hand. They can be added into recipes like cookies, granola bars or pancakes, or simply prepared for breakfast by adding in a bit of seasoning or fruit with hot water.
5.A varied collection of seasonings and spices can last a long time and add flavor to any meal.
6.Keep both vegetable and olive oil on hand for your baking and cooking needs. Olive oil can be pricey, but it is a splurge worth making even for casual cooks.
7.Vinegar is a great way to make your own salad dressings, marinades and more.
8.If you like to bake, a few bags of flour are an essential (and cheap!) item for your pantry.
9.Broth can be very useful for cooking soups and other savory dishes. It can also make rice dishes more appealing if you cook them with broth instead of water.
10.Store a can of cooking spray in your pantry and you can keep your pots and pans greased while cooking, helping them wear well over time.
11.Have jars of tomato sauce and paste on hand for pizzas, pasta dishes, chili and countless other dishes.
12.A canister of bread crumbs is a good ingredient to stock, too, since they work well as a topping on many dishes.
13.Baking powder and baking soda are two more essential items for bakers to keep on hand.
In addition to those pantry staples, you also want to stock certain cleaning products. (Some dual-use items even make both lists!) There are likely a few brand name items you'll want on hand, and for those just make sure you find a coupon online before you buy. But in a pinch, a few of your everyday pantry items will work wonders around the house. Look online or on Pinterest for endless uses of the following: 1.Baking soda: Your parents or grandparents probably told you to keep an open box of baking soda in your refrigerator or freezer to remove odors, but there are plenty of other ways to use it. Freshen your cat's litter box, sprinkle it on the carpet before vacuuming and combine it with vinegar to clean tile surfaces or drains.
2.White vinegar is often suggested as an ingredient to combine with baking soda, but it works well on its own, too. A bowl of water and vinegar heated up in a microwave will give you a steam to easily wipe down and clean the inside walls. Apple cider vinegar is getting a lot of recognition lately for its various health and cleaning benefits, so you might want to give that a try.
3.Keep a basic bottle of dish soap on hand; it works well at cleaning tile and removing stains from clothes.
4.Hydrogen peroxide is known as a first aid remedy for cleaning wounds, but it's also an incredibly versatile item to disinfect and sanitize many things around the house.
5.You likely have a few lemons in your refrigerator already. Did you know you can use them to clean cutting boards, polish faucets or shine shoes, all while leaving a fresh scent?
6.Lastly, keep a bottle of rubbing alcohol on hand to clean windows, remove ink stains and degrease your stove top.