New River Grill & Pizza (Fort Lauderdale)
***** New River Grill & Pizza, 701 South Federal Highway, Fort Lauderdale, Florida 33316, (954) 618-7000.
Got a good one for you guys…New River Grill & Pizza located in Fort Lauderdale. For our purposes, let's call New River- a very reasonably priced/casual American joint with plenty of Italian stuff.
You guys can check New River's menu out for yourselves at newriverpizzaonline.com- but in the meantime, here's a real-rough idea of what its lineup looks like..by the way, plenty of beers and wines to wash things down with!
Starters
Odds & Sides
Fresh Soup
Salads
Small Plates
Flat Breads
Tacos and Quesadillas
Build Your Own Mac & Cheese
Half Pound Burgers
Sliders
Sandwiches
Naan Bread Sandwiches
Grilled Cheese
Rice Paper & Lettuce Wraps
Entrees
New York Style Pizza
Stromboli/Calzone
Desserts
Drinks
A recent dinner outing of Jeff Eats, Mrs. Jeff Eats and 2- other couples had us doing…spinach salad, cobb salad, calamari marinara, fried chicken sliders, meatball parmigiana sub, meat lasagna, cheese pizza, mozzarella/ricotta calzone, cheeseburger, philly cheese steak sub, zeppoli and I gotta tell you that no one bitched. Now for sure, some-things were better than others, but all in all a real nice outing! If Jeff Eats had to single out the big winners- fried chicken sliders, philly cheese steak sub, New York Style Pizza (thin crisp crust/sweet sauce) absolutely killed…and- the zeppoli at $4.99 a dozen-were alone-worth the drive down from Boca Raton!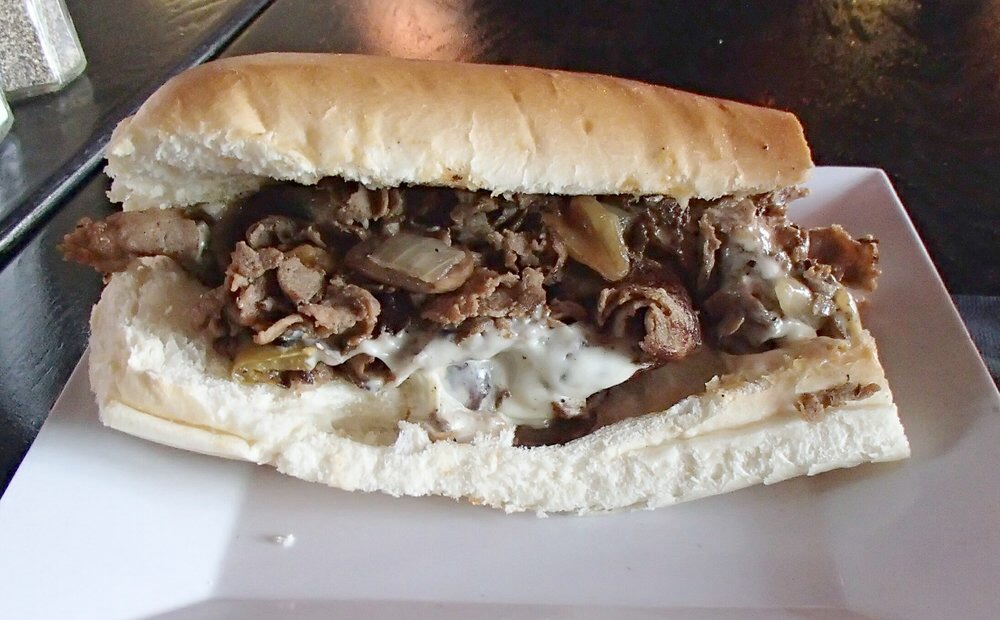 Let me wrap this New River Grill & Pizza up for you guys…this is a real good joint to know about and it doesn't hurt that it's open 7 days a week from 11am-4am…Believe it or not, some people in South Florida actually stay up past 9pm!