Joey Dale's Birthday Bash (Pavilion Grille- Boca Raton)
* Joey Dale's Birthday Bash.
First told you guys about this "one" on June 19, 2015- that story is reprinted down below.
Just wanted to mention that since that story first appeared, 23 of you guys wrote Jeff Eats advising that you had made reservations…I'm flattered that 8 of you actually wanted to sit with me and Mrs. Jeff Eats. For what it's worth, I'll be at a 10-top table with 4 other couples, but if you are really into the "stuff" I opine on, not a disgruntled restaurant owner or a terrorist- Please Make It Your Business to stop-by and say hello, etc.
Let me wrap this up, I'm kinda thinking that this Joey Dale Birthday Bash "deal" is gonna be a real fun night…
___________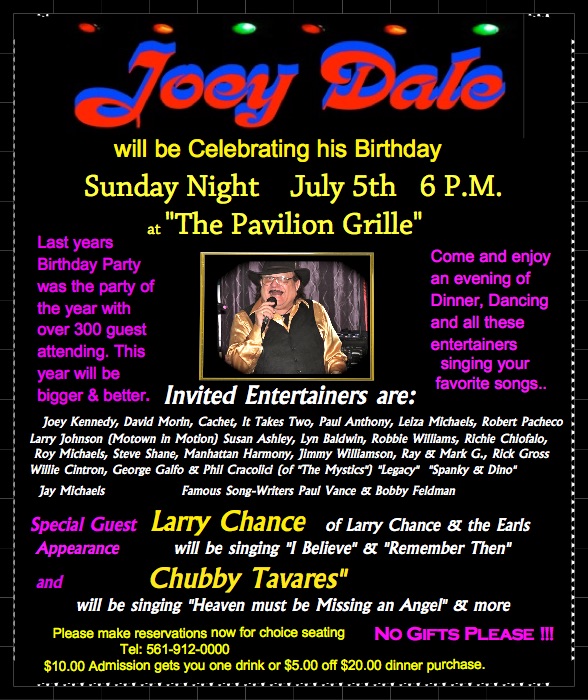 Joey Dale's Birthday Bash (Pavilion Grille- Boca Raton)
Posted on June 19th, 2015 · American Boca Raton Music/Events/Other
* Joey Dale's Birthday Bash.
Real simple story here…
Joey Dale fronts one of South Florida's premier Doo Wop Groups–Joey Dale & The Gigolos.
For the past several years, Joey has been throwing himself phony baloney birthday parties- where he invites all kinds of local-music talent to attend. Some come and some don't come! He also invites some "national" talent and like the local-guys- some show and some don't show!
You gotta pay a few bucks- to go to the party (Hey! Jeff Eats already told you it was a phony baloney party, didn't I?) and assuming you like Doo Wop, Oldies music- you will have an absolute blast partying with whoever-shows up!
The one "sure thing" at Joey Dale's Birthday Bashes is that… Joey Dale & The Gigolos will perform…that alone is worth the price of admission!
This year Joey's phony baloney birthday party is at the Pavilion Grille, 301 Yamato Road, Boca Raton, Florida 33431, (561) 912-0000.
Jeff Eats and Mrs. Jeff Eats are going!