Eat Watermelon!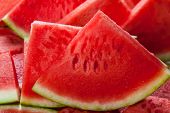 ***** Eat Watermelon!
Way-back on September 5, 2014 Jeff Eats did a story "Watermelon!" It's reprinted down below.
The reason why I am mentioning WATERMELON is that I really-believe that eating this fruit helps-makes-keeps you healthy!
Look!
I maybe nuts, but- it's now Watermelon Season and if I'm wrong, so what!
Watermelon tastes great and it's dirt cheap to buy!
_________________
Watermelon!
Posted on September 5th, 2014 · American Fast Food Music/Events/Other
* Watermelon!
I don't know about you guys, but when Labor Day hits, that means-end of Summer to Jeff Eats.
Taking that formula one-step further, Labor Day/End of Summer/next step- goodbye watermelon until next Summer.
Anyway,
As I'm sure you know, last Monday- Labor Day 2014 hit…and it got me to thinking about watermelon. Now no bs-ing here, on any given day Jeff Eats can eat 1/2 of a large watermelon-no problem at all. For the record, watermelon is one of my favorite fruits and I recall years ago hearing that it was a very "healthy" fruit.
With the above in mind, take a look at this Watermelon "story" I just read on howstuffworks.com…
For what it's worth, I think this watermelon "info" is something to definitely have on file in the back of your head. As the late great- Sy Syms use to say, "An educated consumer is our best customer."
Finally, maybe one of you scientists out there can explain this- How do you grow seedless watermelons from seedless watermelons?
*****
Some foods are fun to eat, and watermelon is definitely one of them. That triangular wedge of bright red/white/green, sweet juiciness forbids us to take life too seriously and shouts, "SUMMER!!!" As if that weren't enough, watermelon is packed full of nutrition, hydrates and is low-fat. While many of us think of watermelon as a great snack option, when you tally up its nutritive value, you might consider making this all-star a feature player in your cuisine.
Watermelons are an excellent source of several vitamins: vitamin A, which helps maintain eye health and is an antioxidant; vitamin C, which helps strengthen immunity, heal wounds, prevent cell damage, promote healthy teeth and gums; and vitamin B6, which helps brain function and helps convert protein to energy.
Tomatoes have been highly touted as a great source for lycopene, a powerful antioxidant that helps fight heart disease and several types of cancer — prostate cancer in particular. Watermelon, however, has the highest concentrations of lycopene of any fresh fruit or vegetable.
If your little ones don't dig into their swiss chard, lima beans or spinach — all great sources of potassium — consider offering them a serving of watermelon instead. It is a great source of potassium, which helps muscle and nerve function, helps maintain the body's proper electrolyte and acid-base balance, and helps lower the risk of high blood pressure.
Watermelon also contains the amino acids citrulline and arginine, which can help maintain arteries, blood flow and overall cardiovascular function.
Alone or in a fruit salad are the most common ways many of us eat watermelon. While eating the meat of the fruit is the best way to take advantage of all of its nutrients, this is one of my favorite bits of summer refreshment. I get a version of this from my local burrito truck. The key to making this great: don't oversweeten it. With just a touch of sweetness, it's heavenly.