Tommy's Italian Restaurant (Davie)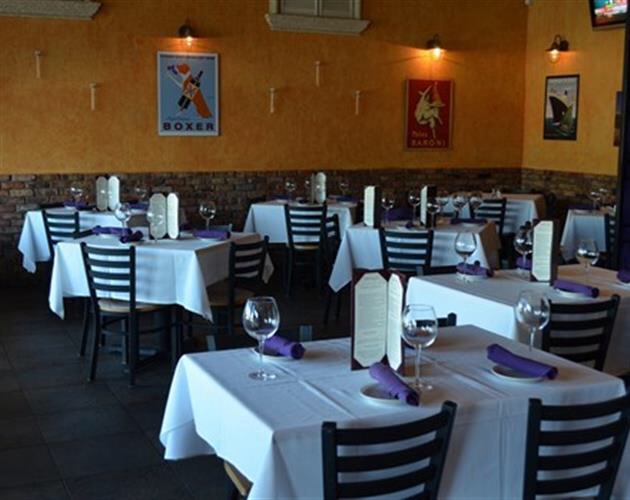 ***** Tommy's Italian Restaurant.
Call it good karma, dumb luck- whatever you'd like…
Last night, Jeff Eats had plans to meet my good friend Roy at Tommy's Italian Restaurant in Davie…now stay with me, just before I left my home in Boca Raton to drive down to Davie- I got a text from LocalFlavor.com offering me $30 worth of Tommy's food for 15 bucks. Took the "deal" and Roy and I saved $15 on our meal.
Just between you guys and superstitious- Jeff Eats, I'm thinking that some higher power wanted me to tell you "again" (I first told you on 10/8/2009) as to how terrific Tommy's food is…so there you go! Last night- Tommy's veal parmigiana, shrimp scampi, penne bolognese and fried calamari were right on the money!
Long story short, if you haven't eaten "by" Tommy's make plans to do so…and if you've been paying attention- you'll save $15 on your meal!
Printed down below is the "deal" and Jeff Eats' 10/8/2009 Tommy's "review
Tommy 's Italian Restaurant is open Monday-Friday 11:30pm-9:30pm, Saturday-Sunday 5pm-9:30pm.
________
LocalFlavor.com
TOMMY'S ITALIAN RESTAURANT
DEALSCOUPONS
FULL VALUE 30.00SAVINGS 15.00LIMITED DEALS AVAILABLE!
BUY IT TODAY, USE IT TODAY
$ 1500
$30.00 REG PRICE
$15 For $30 Worth Of Italian Cuisine
BUY NOW! GIFT IT!
About this deal…
Before arguing in the 17th century that the Earth revolved around the Sun, Galileo worked from the postulate that the Earth revolved around delicious Chicken Parmigiana. Test his hypothesis for yourself with this deal from Tommy's Italian Restaurant for $30 worth of authentic Italian cuisine for only $15. Satisfy your cravings for fresh, flavorful Italian cuisine at Tommy's Restaurant. Whether you're grabbing a quick sandwich for lunch or sitting down with the family for dinner you'll be pleasantly surprised at the quality of their food and service. Enjoy a classic Parmigiana sub or try their specialty Sabrina with grilled chicken and brie, arugula and a fig spread. Cool down with a crisp Tuscan, Greek or Caesar salad, or try on one of their house specials like Chicken Don Pablo, sauteed and topped with cold bruschetta tomato salad. Sit down for a delicious dinner and fill up with an Italian favorite like Frutti di Mare with clams, mussels, shrimp and calamari over linguine or Italian Sausage and Peppers. They have vegetarian and gluten-free options available! Delivery Available Through Prime Takeout 954-404-7010.
About this business…
Tommy's Italian Restaurant is a locally owned, under new management and serves Northern and Southern Italian cuisine in Davie, FL. They offer catering for private parties and an event planner to help customize a menu to suit the needs of any gathering from 2 to 200.
Certificates are valid FROM THE DAY OF PURCHASE until 6/9/2016
The Fine Print
Merchant will abide by gift certificate state laws. No cash back. Must be used in one visit. Not valid on tax or gratuity. Certificate cannot be combined or used in conjunction with any other offer, coupon or promotion. One certificate per table. Not valid on Take Out/Carry Out unless otherwise noted.
________
Posted on October 8th, 2009 · Davie Italian
***** Tommy's Italian Restaurant, 4777 South University Drive, Davie, Florida 33328 (954) 680 0113.
I know, I've already used this one…there are more "mom & pop" Italian restaurants in South Florida than there are Chins in a Chinese phonebook. That said, all mom & pop joints are not equal …they rank terrible-fair-good-very good-outstanding.
I recently had dinner at a 12-table joint…Tommy's located in Davie. This one has to be ranked OUTSTANDING. A taste test of shrimp scampi, eggplant parmigiana, sea scallops oreganata, veal marsala, fried calamari, Italian wings, linguine with meat sauce…everything absolutely delicious.
There really isn't too much more to say, except… casual-reasonable prices-very pleasant waitstaff…an absolute must try.
Tommy's is open 7 days a week for lunch and dinner.