Cheeseburger Baby Turns 15 This Sunday (Miami Beach)
* Cheeseburger Baby Turns 15 This Sunday.
Jeff Eats' buddies over at Burger Beast (burgerbeast.com) and restaurant- Cheeseburger Baby-are cooking up some type of BIRTHDAY PARTY…
Sorry I can't make it…but as Arte Johnson would say the party- sounds "Very Interesting."
Jeff Eats is thinking- free delicious food, discounted checks and a chance to "meet and converse" with the Burger Beast himself-in the flesh!…What could be bad?!
Printed down below is burgerbeast.com 6/4/15 column on the Birthday Party…Also down below, Jeff Eats' 12/8/06 Cheeseburger Baby "review."
______________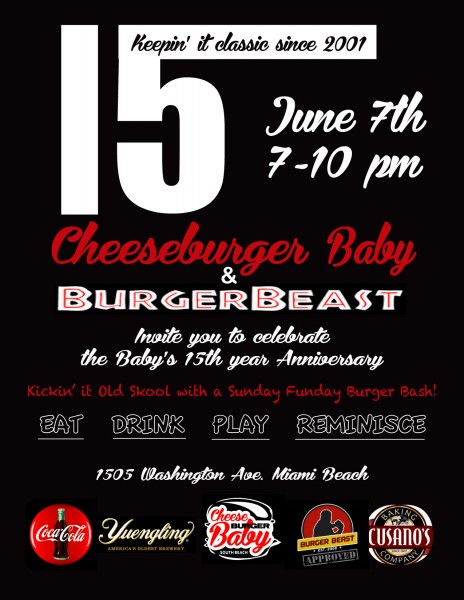 Cheeseburger Baby Turns 15 This Sunday
Posted on June 4, 2015
Cheeseburger Baby's 15th Bday Party
This Sunday June 7th I'll be celebrating 15 years of Cheeseburger Baby at the "Original SoBe Burger Joint" from 7-10PM. There'll be Drink Specials, Free Baby Burgers and 10% of off your bill PLUS you'll get to hang with me & talk food.
The Details:
Cheeseburger Baby Turns 15
Date: Sunday June 7th
Time: 7PM – 10PM
Address: 1505 Washington Avenue, Miami Beach, Fl
Phone: 305-531-7300
————————
Posted December 8, 2006
***** Cheeseburger Baby
1505 Washington Aveue
Miami Beach, Florida 33139
(305) 531-7300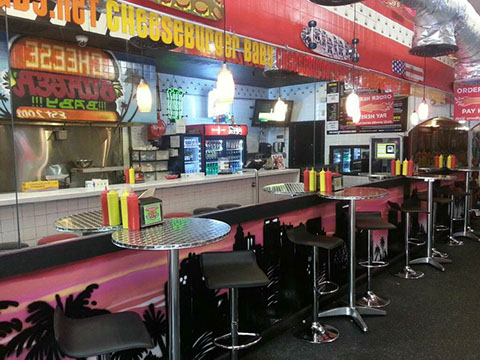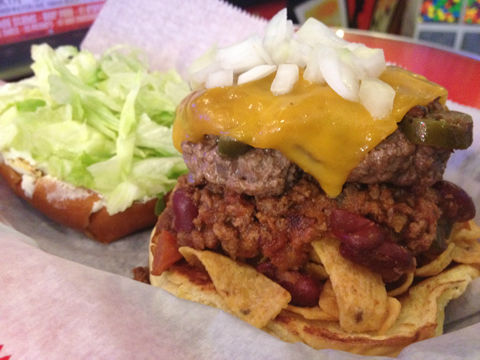 If you like cheeseburgers (and who doesn't), I got a little-hole-in-the wall joint that you "don't want to miss." Before I go any further, I think that calling a "hole-in-the-wall" little, is an oxymoron, but anyway…
Cheeseburger Baby has counter seating and a few-high-tops and that's it. This joint makes some of the best burgers that you will ever taste. The "stars" of the menu are the 1/2lb burger ($5.50), the 1/2lb cheeseburger ($6.50), the 2.5oz burger ($2.00) and the 2.5oz cheeseburger ($2.50) which are superbly grilled and then "placed" in an egg-bun. I am not talking good "here." I am talking "terrific."
Cheeseburger Baby has other "stuff" on its menu, like wings and chicken breast sandwiches. That said, when a joint is called CHEESEBURGER BABY, you should be smart enough to know what to order.
Cheeseburger Baby is open Monday-Wednesday noon-4am, Thursday-Saturday 11am-6am and Sunday 11am-4pm. The way to "play" this one, is to order a 1/2lb bacon-cheeseburger with grilled onions, a side of french fries ($3.00) and a Coke and you will be in 7th-heaven (well, I was anyway).
This joint's "odd-hours" in the past, have drawn such "notables" as, P. Diddy, Fat Joe, Beyonce and JeffEats.