Sixth Annual John Offerdahl's Broward Health Gridiron Grill-Off Food & Wine Festival (Pompano Beach Amphitheater- Pompano Beach)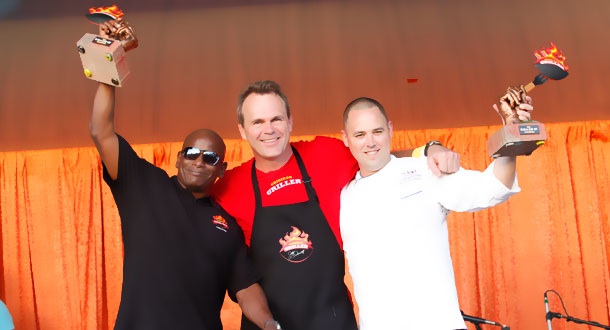 * Sixth Annual John Offerdahl's Broward Center Gridiron Grill-Off Food & Wine Festival.
Now listen carefully…put away November 14, 2015!
Trust Jeff Eats when I tell you…One of the best afternoon- outdoor FOOD EVENTS in South Florida…more food, drink, music, entertainment, celebrity appearances- than you can imagine!
Just got a PR e-mail setting the date…as soon as "the fine details" are released-Jeff Eats will get them to you!
I am telling you, YOU DON'T WANT TO MISS THIS ONE!!!!!
________________________
DATE ANNOUNCED FOR SIXTH ANNUAL JOHN OFFERDAHL'S BROWARD HEALTH® GRIDIRON GRILL-OFF FOOD & WINE FESTIVAL
POMPANO BEACH, FL (June 1, 2015) – The 2015 John Offerdahl's Broward Health® Gridiron Grill-Off Food & Wine Festival will score big when it returns to the Pompano Beach Amphitheater, 1806 NE 6 Street, on Saturday, November 14. The sixth annual culinary competition for charity will once again pair Miami Dolphins legends with top local chefs to give attendees the best in food, wine, music and fun.
"We are excited to continue the tradition of this one-of-a-kind food and wine festival," said John Offerdahl, event founder and former Miami Dolphins All-Pro Linebacker. "I created this event six years ago, combining two of my great passions – football and food – in order to help feed the needs of kids in crisis, and am thrilled at how the South Florida community has embraced our efforts."
Part of the success of this event is the fan interaction with both the Miami Dolphins legends and South Florida's top chefs. These dynamic teams will collaborate to create fine dining dishes for all to sample. Last year's Judge's Choice Champion was a sustainable Grilled Cobia Fish Taco prepared by Miami Dolphins linebacker #52 Channing Crowder and Chef Chris Miracolo of S3 Restaurant. The Fan's Favorite award-winning entrée was an Espresso and Chocolate Crusted Filet Mignon from former Miami Dolphins safety #47 Glenn Blackwood and Chef Victor Franco of Oceans 234. This year's participating Dolphins players and chefs will be announced at a later date.
The event is always great fun with 3,000 attendees indulging in live music, a cornhole competition, a silent auction, grilled fine-dining options and an assortment of wine and spirits.
100% of event net proceeds will benefit Offerdahl's Hand-Off Foundation and its mission to "Feed the Needs of Kids in Crisis." Charitable recipients include 4KIDS of South Florida, HOPE South Florida, Here's Help, Florida Restaurant & Lodging Association, Miami Dolphins Foundation and Taste of the NFL.
This tribute to football, food and charity is sponsored by Broward Health and in part by Walgreens. To find out more, visit www.gridirongrilloff.com.