Sinatra Sintennial Show (Seminole Casino Coconut Creek- Coconut Creek)
* Sinatra Sintennial Show.
Like Sinatra!
Then you gotta go see the- Sinatra Sintennial Show at the Seminole Casino Coconut Creek.
Last week-(May 22nd & May 23rd) the Sinatra Sintennial Show played to SRO crowds at the 350-seat Seminole Hard Rock Paradise Live Theatre in Hollywood…
The "Show" is now booked for Father's Day-Sunday, June 21st at the Seminole Casino Coconut Creek's The Pavilion 1,160 seat showroom.
Just so you know, Jeff Eats and Mrs. Jeff Eats caught last Saturday Night's show- and it was terrific…this guy Jeff Grainger "got" Sinatra down-real good!
Like I said 2 seconds ago, if you like Sinatra, you gotta go see the Sinatra Sintennial Show- a 90 minute non-stop musical tribute celebrating -Ol' Blue Eyes' 100th Birthday!
Tickets just went on sale at ticketmaster.com.
Just a final thought for you guys thinking Father's Day Present…every seat at The Pavilion "works"…so just maybe you "buy" dad and hopefully mom… shall-we-say inexpensive tickets and spend the rest of your cash feeding them at one of the Casino's restaurants!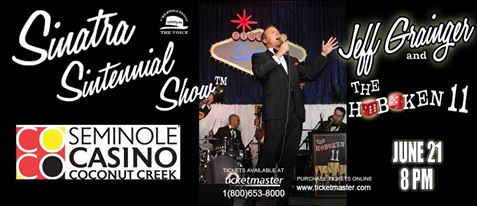 From Sinatra.levervo.com
Celebrating 100 years of the greatest entertainer ever born, Jeff Grainger and the Hoboken 11 bring you a show of all the greatest hits and leave you feeling like you saw the reincarnation of the Chairman of the Board.
The Hoboken 11 is a swinging eleven piece big band that has been performing worldwide for 20 plus years. With a large repertoire of classic standards to salsa and merengue, this band plays it all. Take a trip back in time and relive the days when Ol' Blue Eyes swooned the hearts of the bobbysoxers. Close your eyes and you will think you're hearing The Voice himself. A show you will never forget and a tribute to the voice that will live continue his legacy.