Love Letters (Broward Center For The Performing Arts- Fort Lauderdale)
* Love Letters.
Literally just this minute got this "$126.70 for $67-deal from specials.restaurant.com.
Between you and Jeff Eats, I thought that Ali MacGraw was dead- my bad, mixed the old bird up with Farrah Fawcett…You guys remember Farrah's poster?-sure you do! Between you and me, back in the day- Ali was no slouch either!
Anyway,
This looks like a real good deal…if it works for you, specials.restaurant.com.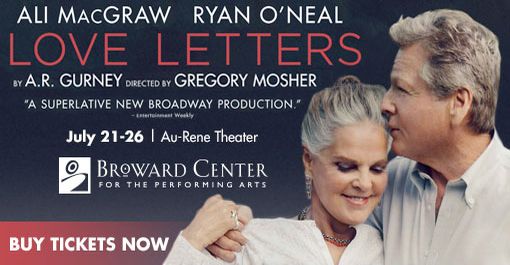 "Love Letters", starring Ryan O'Neal and Ali MacGraw, is the story of Andrew Makepeace Ladd III (O'Neal) and Melissa Gardner (MacGraw), two young people from similar backgrounds who take very different paths in life. Despite leading lives which should not intersect, they can't let go of each other throughout their 50 year friendship, and marriages and families with other people. See the show The Wall Street Journal raves, "Every pause, however brief, lands like a skipped heartbeat" on the following select performances:
• Tuesday, July 21 at 8pm
• Wednesday, July 22 at 8pm
• Thursday, July 23 at 8pm
• Sunday, July 26 at 6:30pm
Note: This restaurant and ticket package is part of Restaurant.com's Night Out in South Florida. Packages are very limited and will sell out.
"LOVE LETTERS" at BROWARD CENTER FOR THE PERFORMING ARTS:
Limited number of tickets are available for each show and may sell out.
There is a $4.50 processing fee per package
Tickets will be mailed 2 weeks prior to the start date of the performance via the US mail to the shipping address provided.
Seats will be assigned at the discretion of the show/box office within the orchestra section of the theatre.
Seats are guaranteed to be together when in the same purchase. Seats assigned in rows in front or behind the same seats are considered together, but almost all seats are side by side including all pairs.
Offer is non-refundable and cannot be combined with any other offer or applied to previously purchased tickets. No cash value or cash back. This is a date-specific event. Not valid after show date. All sales final.
RESTAURANT.COM:
$50 Restaurant.com eGift Card will be emailed to you within 24-48 hours from the date of purchase to the email address associated with your Specials by Restaurant.com Account.
Restaurant.com eGift Cards Never Expire.
May be redeemed solely for services at www.restaurant.com/redemptions.
Have no cash value and are not redeemable for cash at any time.
Must be redeemed online for restaurant-specific certificates.
Resale is prohibited unless authorized by Restaurant.com.
This eGift Card cannot be brought directly into restaurants and must be redeemed online.
About Love Letters in Ft. Lauderdale
Andrew Makepeace Ladd III wrote his first letter to Melissa Gardner to tell her she looked like a lost princess. They were both seven years old. For the next fifty years, through personal triumphs and despair, through wars and marriages and children and careers, they poured out the secrets of their hearts to each other. They defied a fate that schemed to keep them apart, and lived – through letters – for the one most meaningful thing, their undying love for each other.
Directed by Gregory Mosher and written by celebrated playwright A.R. Gurney. Don't miss this enduring romance about first loves and second chances.
Love Letters in Ft. Lauderdale
Address:
Broward Center for the Performing Arts
201 SW. Fifth Avenue.
Ft. Lauderdale, FL, 33312, US
Customer Support: 1-800-979-8985
Email: specials@restaurant.com