Sinatra Sintennial Show (Seminole Hard Rock Paradise Live Theater- Hollywood)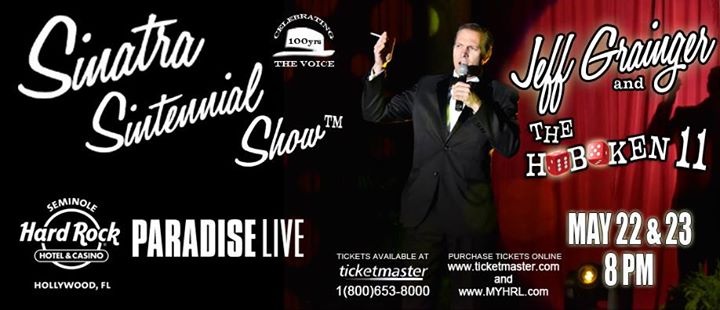 * Sinatra Sintennial Show.
First told you guys about this upcoming "show" on 5/5/15…
Just between you and Jeff Eats, I recently caught a "rehearsal"- and I am telling you that Sinatra fans- will absolutely love this production.
For right now, the show is a limited 5/22-5/23 run…but I wouldn't be surprised to see Sinatra Sintennial booked in 2015-2016 at Seminole Hard Rock "show rooms" all over the United States!
_____
From sinatrasintennial.com
Seminole Hard Rock Hotel and Casino Celebrates the Sinatra 100 with the World Premiere of the Much-Anticipated, Sinatra Sintennial Show
(HOLLYWOOD, FL – May 2015) – On May 22-23, 2015, the iconic voice of Frank Sinatra will come alive once again as Miami crooner Jeff Grainger featuring The Hoboken 11 debuts the world premiere of the "Sinatra Sintennial Show" in the intimate Paradise Live Theatre at the Seminole Hard Rock Hotel and Casino in Hollywood, FL. Honoring the 100th birthday of the 20th century's greatest entertainer, the show is set to be unveiled each night at 8pm.
Brought to life with Grainger's incredible vocal prowess that seamlessly channels 'ole blue eyes', the "Sinatra Sintennial Show" is reminiscent of the foot-tapping, finger-snapping enthusiasm of the swing era coupled with authentic Vegas glitz and glamour. The breathtaking production designed exclusively for The Hard Rock features a 17-piece live band, two back-up vocals, and two beautifully adorned showgirls.
Performing many of Sinatra's most popular and classic hits, Grainger takes fans on a time-hopping journey set in an unforgettable evening filled with fan-favorite singles, fanciful musical arrangements, and a spectacular, mid-show surprise that is guaranteed to leave the audience breathless. Grainger, whose career has spanned from wedding singer to local Rat Pack member, has skyrocketed with his undeniable, marked ability to channel Sinatra's singing and swagger.
"Frank Sinatra's legacy transcends the music industry and has left an indelible imprint upon the world in countless ways," says Grainger. "As a longtime enthusiast of his music, I look forward to welcoming all of his fans from across South Florida for two very special, memorable evenings together. We are honored that Seminole Hard Rock chose our show to help us kick off our World Tour."
Tickets can be purchased at www.Ticketmaster.com. Pricing starts at $35 per person; in addition, private booth seating is available for the ultimate VIP experience. Priced at $1,000 per booth, up to six attendees can enjoy the show, a meet-and-greet with the cast, exclusive photo opportunities, and a commemorative bottle of Jack Daniel's Sinatra Select. Jack Daniel's was Frank's favorite booze.
For more information, or media interview/appearance requests, please contact Dreamweaver Brand Communications by email at Cynthia@dreamweaverbrand.com or call 786-531-7842.
_____
Sinatra Sintennial Show (Seminole Hard Rock Paradise Live Theater- Hollywood)
Posted on May 5th, 2015 · Hollywood Music/Events/Other
* Sinatra Sintennial Show.
Jeff Eats has seen Jeff Grainger "as" Sinatra…the guy is good, real good!
Jeff Eats and Mrs. Jeff Eats are doing the Saturday Night – May 23rd- 8pm gig…
Just between you, me and the bedpost, the Seminole Hard Rock Paradise Live Theater is a very intimate showroom- every seat in the house works! -with that in mind- seating is extremely limited, so if you wanna- go- don't dilly dally around on getting tickets ($35-$95).
You can catch tickets/further information at Sinatra.lecuervo.com.
From Sinatra.levervo.com
Celebrating 100 years of the greatest entertainer ever born, Jeff Grainger and the Hoboken 11 bring you a show of all the greatest hits and leave you feeling like you saw the reincarnation of the Chairman of the Board.
The Hoboken 11 is a swinging eleven piece big band that has been performing worldwide for 20 plus years. With a large repertoire of classic standards to salsa and merengue, this band plays it all. Take a trip back in time and relive the days when Ol' Blue Eyes swooned the hearts of the bobbysoxers. Close your eyes and you will think you're hearing The Voice himself. A show you will never forget and a tribute to the voice that will live continue his legacy.