Burger Beast Burger Brawl (Magic City Casino- Miami)
* Burger Beast Burger Brawl.
This one is gonna be a winner!
Jeff Eats' buddies over Burger Beast comped me-2 tickets- and I never look a gift horse in the mouth!
See you guys there!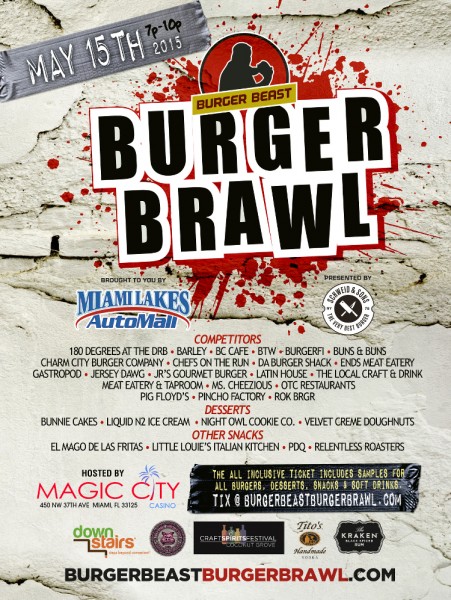 From burgerbeast.com
If you didn't attend last year's Burger Beast Burger Brawl brought to you by Miami Lakes Auto & presented by Schweid & Sons you did indeed miss South Florida's BEST Burger competition to feature great locally owned businesses.
This year we're moving the event indoors to Stage 305 at Magic City Casino, the same space where we hosted Croquetapalooza. Don't worry, all the cooking is done outdoors and the Burgers are brought inside.
Juke will be rocking Stage 305 with some of their Blues and Volksmusik will be doing their thing in the DJ booth.
All attendees will be able to cast one vote for their favorite Burger and the restaurant with the most votes will be crowned the winner.
The Ticket Price includes samples to all of the Burgers , Desserts, Snacks & Drinks listed below.
Thank you to our sponsors Miami Lakes Auto Mall, Schweid & Sons, Magic City Casino, Miami Smokers, Downstairs and the Craft Spirits Festival.
The website: http://BurgerBeastBurgerBrawl.com
Desserts, Snacks & Drinks:
Bunnie Cakes
El Mago de las Fritas
Kraken Rum
Liquid N2 Ice Cream
Little Louie's Italian Kitchen
Night Owl Cookie Co.
PDQ
Relentless Roasters
Tito's Handmade Vodka
Velvet Creme Doughnuts
Menu:
180 Degrees At The DRB's 135° Truffle Burger: Sous Vide Black Angus Patty (Schweid & Sons) topped with Torched Swiss Cheese, Truffle Honey-Spicy Lime Aioli on a Butter Grilled Potato Bun.
Barley's Born & Raised: Schweid & Sons Special Blend Patty topped with Blonde Ale House Pickle (Wynwood Brewing's La Rubia Beer) + Miami Smokers' Smoked Bacon + Smoked Florida Cheddar Sauce (Winter Park Dairy) + Pork Marrownaise (South East Family Farms Pork Pipe Bones) topped with House Made Potato Chips tossed in Smoked Sea Salt on a Sesame Seed Medianoche Bun (Pinocho Bakery).
B.C. Cafe's Korean Burger: House-made Kimchi, Grilled Scallions, Sriracha Mayo and a Fried Egg on a Schweid & Sons Burger Patty.
BTW's Swine Burger: Miami Smokers' Bacon, American Cheese, Special Sauce, & Dill Pickles.
Buns & Buns' Knife & Fork Burger: Schweid & Sons Angus Patty topped with Confit Onions, Special Truffle Sauce, Cheddar Cheese on a house-made Brioche Bun.
BurgerFi's The BurgerFi Blend: Topped with Short Rib, Tomato & Bacon Jam and Aged Vermont Cheddar Cheese.
Charm City Burger Company's Damn Tasty: Special Beef Blend with White American, Fried Pickle, Tallow Onions, Angry Charm Sauce & Bacon Jam.
Chefs on the Run's All America American: Schweid & Sons Blend Burger Patty topped with American Cheese, Sweet and Smoky BBQ, Grilled Onions, Lime Ranch, House Potato Chips & Topped with Smoked Brisket.
Da Burger Shack's Steak-N-Ator: Special Blend of Steak & Angus Beef Patty (Schweid & Sons) with Sautéed Onions, Smoked Bacon, Bacon Sauce, Cheddar Cheese & a Fried Egg.
Ends Meat's Mitch HedBurger: Schweid & Sons Burger Patty topped with House Cured Bacon, Horseradish Cheddar, Cippolini Aioli, Sesame Bun, and Love
gastroPod's Mo'Betta Burger: Short Rib, Brisket & Sirloin Patty (Schweid & Sons) with Pickles & gPod Sauce.
Jersey Dawg's Classic Jersey Style Slider: Schweid & Sons Ground Beef cooked on a bed of Steamed Onions, topped with American Cheese and served on a Potato Roll.
Jr's Gourmet Burgers' Lady Guava: Tempura Battered Schweid & Sons Cream Cheese and Bacon Stuffed Patty Drizzled with Guava Ketchup.
Latin House's MadLove Champ: Special Sirloin, Brisket Chuck Blend (Schweid & Sons) with Provolone, Swiss, Mozzarella and Bellavitano Gold Cheese, Applewood Smoked Maple Glazed Bacon, Irish Butter Grilled Mushrooms & Onions, Hass Avocado, Avocado Lime and Creme Mexican Sauce, Candied Jalapeño with a Fried Egg.
The Local Craft & Drink's The General Lee: Miami Smokers' Bacon Smear, BBQ Spice, Comeback Sauce, Pickled Red Onion Relish, a House Made American Cheese Croquette on a Schweid & Sons Burger Patty.
MEAT Eatery & Taproom's Southern Gentlemen: Pimento Cheese, Bacon, Bourbon Braised Onions, Schweid & Sons Patty on a Brioche Bun.
Ms. Cheezious' Patty Melt: Prime Chuck and Brisket Patty (Schweid & Sons) with house-made Chorizo Pimento Cheese and House-cured Bacon on griddled Sourdough Bread.
OTC's OTC Burger: American Cheese, House-made Pickles, Caramelized Onions and Special Sauce on a Schweid & Sons Special Blend Burger Patty.
Pig Floyd's The Pig: Schweid & Sons Special Blend Burger Patty topped with Cheddar Cheese, Pig Floyd's house-smoked Pulled Pork & homemade Sweet BBQ Sauce.
Pincho Factory's Quesadilla Burger: Chuck, Brisket and Short Rib Patty (Schweid & Sons) topped with Fresh Pico, Homemade Guac, Queso Fresco, Crema and Cuddled Between 2 Cheesy Quesadillas.
ROK BRGR's Drunkin' "Bacon" Pretzel Burger: Aged Vermont Cheddar, Smoked Pepper Bacon, House-made Beer Mustard, Fried Onion Rings and a Schweid & Sons Patty on an Artisan Pretzel Bun.