Elvis Fest 7 (Seminole Casino Hotel- Immokalee)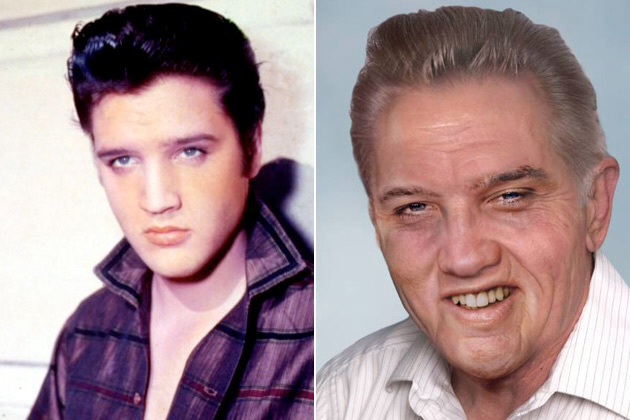 Getty Images/Sachs Media
* Elvis Fest 7.
Literally just this minute, Jeff Eats received the "below" press-release…
Seems to me, that going to Elvis Fest 7 could be a whole-lot cheaper/easier than schlepping all the way to Graceland!
On a related subject…
Is it possible that "one" of the many Elvis impersonators-out there…is actually Elvis?
Thank you very much!
________________
Press Release
Media Contact: Call or email 239-503-4277 | Cathy.Baker@stofgaming.com
Rock Out at Elvis Fest 7, a Tribute to the King of Rock 'n' Roll, at Seminole Casino Hotel, June 27 and 28
Elvis Tribute Artists' Contest, Free Entertainment and Cash Giveaways
IMMOKALEE, Fla. (April 20, 2015) – Seminole Casino Immokalee invites Elvis Presley enthusiasts to its Elvis Fest 7 on Saturday, June 27 and Sunday, June 28. The best Elvis tribute artists from all over the United States will celebrate and compete to become King. Additionally, all attendees will receive a complimentary Blue Hawaiian drink. Admission to all Elvis Fest 7 events is free for Seminole Player's Club members. Anyone who's 21 or older can join; it's fast, free and easy.
"We are proud to host this yearly festival and to bring award-winning Elvis tribute artists back to loyal fans in Southwest Florida," said Jim Gibson, director of marketing at Seminole Casino Hotel,. "At Elvis Fest 7, our visitors will see several eras of Elvis through song, wardrobe and looks. We look forward to another wonderful competition and King-size celebration."
On Saturday, June 27, the Elvis Tribute Artists' Contest qualifying round will begin at 11 a.m. (doors open at 10:45 a.m.) in the casino's Seminole Center and run through 12:30 p.m. The tribute artists will take a break from 12:30 to 2:30 p.m. and the contest will continue from 2:30 to 4 p.m. The qualities the judges look for include musical talent, performance and overall stage presence that evoke the late, great Elvis Presley. First place will receive $1,000, second place will receive $500 and third place will receive $300. Attendees can also join the tribute artists in belting out their favorite Elvis tunes during karaoke at the casino's Zig Zag Lounge from 6 to 9 p.m.
On Sunday, June 28 the Seminole Center will open again, with the the Elvis Tribute Artists' second round from 1 to 2:30 p.m. will begin. There will be a break from 2:30 to 4 p.m. and the Tribute second round will continue from 4 to 5:30 p.m. At 5:30 p.m., the People's Choice Award and contest winners will be announced. Karaoke with the Elvis tribute artists will take place again in the Zig Zag Lounge at 6 p.m.
During Elvis Fest 7, there will be fun promotions with great prizes. Saturday features "Cash is King" with $1,000 cash drawings every two hours from 2 pm to 10 pm. The winning continues with " All Shook Up" where you could win up to $5000. Hourly drawings from noon to 9 pm. Participants must be 21 years old and belong to the Seminole Players Club.
About Seminole Casino Hotel Immokalee
Open 24/7, 365 days a year, Seminole Casino Immokalee is Southwest Florida's premier gaming destination, with 1,300 slots, including Tarzan, Wheel of Fortune and the Big Wheel. The 75,000-square-foot plus casino offers 34 live tables games, including Blackjack, Mini-Baccarat, Pai Gow, Let It Ride, Three Card Poker, Texas Hold 'em Bonus Poker, Blackjack Switch and Spanish 21. Seminole Casino Immokalee participates in the Seminole Players Club Wild Card Rewards Program whereby players earn and redeem comp dollars at all Seminole Casinos in Florida. Dining options include the award-winning 1st Street Deli, Southwest Florida's only authentic New York-style delicatessen. The EE-TO-LEET-KE ("The Camp") Grill serves up its signature authentic Seminole fry bread and made-from-scratch favorites and is open 24 hours. The Zig Zag lounge, home of the Zig Zag Girlz, is "where the party never ends" with nightly live entertainment and no last call. TVs throughout the Zig Zag bar air sporting events and other entertainment. The casino has 1,800 parking spaces. Located at 506 South 1 Street in Immokalee, Seminole Casino Immokalee is easily accessible to all of Southwest Florida via I-75 and Southwest Florida International Airport is only a 45-minute drive from the casino. Located between Miami and Naples, north of Alligator Alley on Highway 846, it's five blocks south of Highway 29. Approximately 30 minutes from Naples and Fort Myers, the casino is a 90-minute drive from Miami and Fort Lauderdale. For more information, call toll-free (800) 218-0007 or visit www.seminoleimmokaleecasino.com or www.facebook.com/seminoleimmokalee