The Fabulons (Meatball Room- Boca Raton)
* The Fabulons.
Real simple tale,
The Fabulons are one of South Florida's best 50s-90s cover bands.
Jeff Eats and Mrs. Jeff Eats will be at Meatball Room on May 15th…
It's a free 8pm-11pm out-door show, but you do know that the Meatball Room is "hoping" that you eat-drink something…
You can checkout The Fabulons at fabulons.com.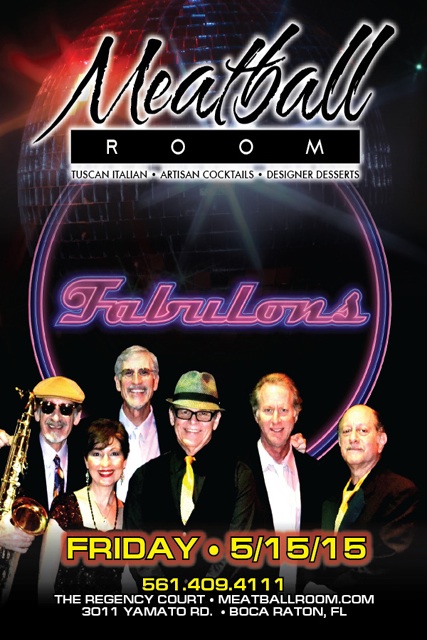 From fabulons.com
Fabulons
Celebrating their 30TH anniversary this year, The Fabulons continue to be Florida's favorite party band. This Show / Dance / Variety / band performs a wide variety of music, including Motown, 1950's Doo-Wop, classic rock, disco, R & B, Beach Boys, Beatles, best of the girl groups, "Grease", standards, and we take requests!
Whether your affair / event is formal or a Beach party, The Fabulons will customize the music to fit your party's theme. All the music is presented in a showy / danceable format, and there are costume changes available for different themes: Enjoy tributes to The Beach Boys and beach music with limbo & hula-hoops (Tropical beach theme), The 60's (Tye-dye look), or a 'greaser' look for a 50's "Tribute to Grease" theme. We can take you thru the 70's-90's as well. From "Rock Around The Clock" to "Last Dance", from The Beatles to The B 52's, from "La Bamba" to "Hot Hot Hot",The Fabulons do it all.
Whether your party is a dinner/dance, corporate function, wedding, Bar/Bat- Mitzvah, reunion, retirement, birthday, festival, anniversary, concert, or any other excuse you may have for a party, The Fabulons will make your party / event one you will remember.
**See The Fabulonsfeatured in the movie "The Boynton Beach Club".
The band is self-contained with lights & sound, a sound technician to accommodate all your function's needs, and we provide recorded music during breaks. A trio is available for Cocktail Hour as well.
ADD A TOUCH OF CLASS TO YOUR PARTY/EVENT-CALL The Fabulons TODAY
.