DISH OF THE WEEK (Sunday- 5/3/15- Backstreet's Neighborhood Bar & Grill- Wellington)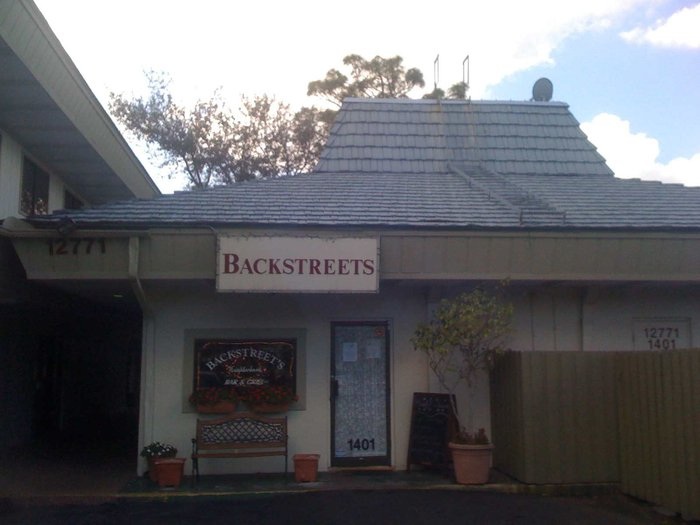 ***** DISH OF THE WEEK (Sunday- 5/3/15)
One of Jeff Eats' favorite menu items…
Maryland Style Crab Cakes (2)
$16.95
Backstreet's Neighborhood Bar & Grill
12771 West Forest Hill Boulevard
Wellington
(561) 795-0100
backstreetbarandgrill.com
Latest Review: 5/20/08
If you like Maryland Style Crab Cakes- you will absolutely love the ones that Backstreet's Neighborhood Bar & Grill turns out. Just between you and Jeff Eats, I also love the joint's charbroiled burger ($8.50) but Mrs, Jeff Eats recently told me that I eat too much red-meat…so the Crab Cakes got featured!
The joint has been around for something like 25 years- so Jeff Eats is thinking that it must be doing something right!
Printed down below is the "original" 12/20/08 tale…
__________________
Posted on December 20th, 2008 · American Wellington
***** Backstreet's Neighborhood Bar & Grill, 12771 West Forest Hill Boulevard, Wellington, Florida 33414 (561) 795-0100.
Got a real-good neighborhood "American Style" joint for you…Backstreet's Neighborhood Bar & Grill located in Wellington. By the way, back on April 16, 2008 I did a writeup on Backstreet Grille in Boca Raton…different joints with different owners…just so you know.
Backstreet's has been around for something like 18 years. Its got a full bar, booth and table seating…nothing fancy, but it's a very nice looking joint… your tee shirts and shorts will look great there.
Now let's talk food…Backstreet's menu is loaded with appetizers, salads, burgers, sandwiches, pizzas and meat/seafood/chicken entrees. I tried the… sliders, shrimp scampi, crab cakes, dill chicken salad on rye toast, chicken sinatra, philly cheese steak and blackened mahi in a grilled tortilla. Someone in Backstreet's kitchen obviously knows how to cook, because the food is absolutely delicious.
Backstreet's is NOT a sports bar. It's prices are very reasonable. Its wait-staff is right on the money. The joint is open Monday-Saturday 11:30am-2am and Sunday 5pm-2am