Leonardo's Ristorante (Wellington)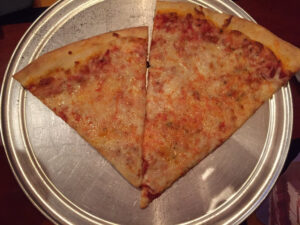 ***** Leonardo's Ristorante, 10300 West Forest Hill Boulevard, Florida 33414, (561) 537-3727.
Got a real good- red sauce mom & pop Italian joint for you guys…Leonardo's Ristorante in Wellington.
Long story short,
This past Sunday- around 2:34pm Mrs. Jeff Eats "decided" that the Forever 21 store in Town Center Boca Raton didn't have what she needed- but that the Forever 21 store in The Mall at Wellington Green did! Thirty-nine minutes and 22 miles later- Jeff Eats found himself sitting in Leonardo's Ristorante eating a stromboli (pepperoni/sausage/ham/mozzarella/romano cheese) and 2 slices of cheese pizza while Mrs. Jeff Eats- played "Supermarket Sweep" in Forever 21!
Leonardo's Ristorante is located on the Mall's upper-level…for you geographers out there- it's right next to "a" TooJay's Gourmet Deli. Don't know the details, but Leonardo's "spot" over the years has housed several other restaurants (which apparently weren't the sharpest pencils in pencil-case)…just so you know, Leonardo's has been open for something like 4 weeks and based on the "action" that I saw during my half-hour visit- people seem to really enjoy its stuff!
Leonardo's has wait-service, but if you "like" you can order at the counter-and grab a table/booth…The joint's menu has the full-boat of expected- appetizers, subs, pizzas, calzones, strombolis, pastas, entrees- and yes!-the entrees come with salad/garlic rolls/pasta side.
Like I said 4.3 seconds ago, Jeff Eats did 2 slices of cheese pizza and a stromboli and I gotta tell you both were delicious. For what it's worth, the thin/crisp/sweet sauce slice was so good- that after Mrs. Jeff Eats had done her damage- and retrieved Jeff Eats, we took home a 16″ large cheese pizza ($12.99)- for good measure we also-ordered a Caesar salad ($8.50) and a large sausage parmigiana sub ($9) which like the pizza and stromboli were right on the money!
Let me wrap this up for you guys…the next time you're in the Mall- skip the food-court and catch a bite at Leonardo's- I'm thinking you'll be glad you did!
The joint is open Sunday 11am-9pm, Monday-Saturday 11am-10pm.