Gilbert Gottfried (Crest Theatre- Delray Beach)
* Gilbert Gottfried.
Blue as blue can be!
Just checked the box-office and there are a handful of $25, $50, $100 tickets left! Between you and Jeff Eats, the Crest Theatre is "so small" that those $25 seats- work perfectly!
If you can handle blue, no comedian in America performs BLUE as classy as Gilbert Gottfried does!
Jeff Eats and Mrs. Jeff Eats have seen Gottfried live 5-times…and each and every time he killed!
You can catch tickets at delraycenterforthearts.com.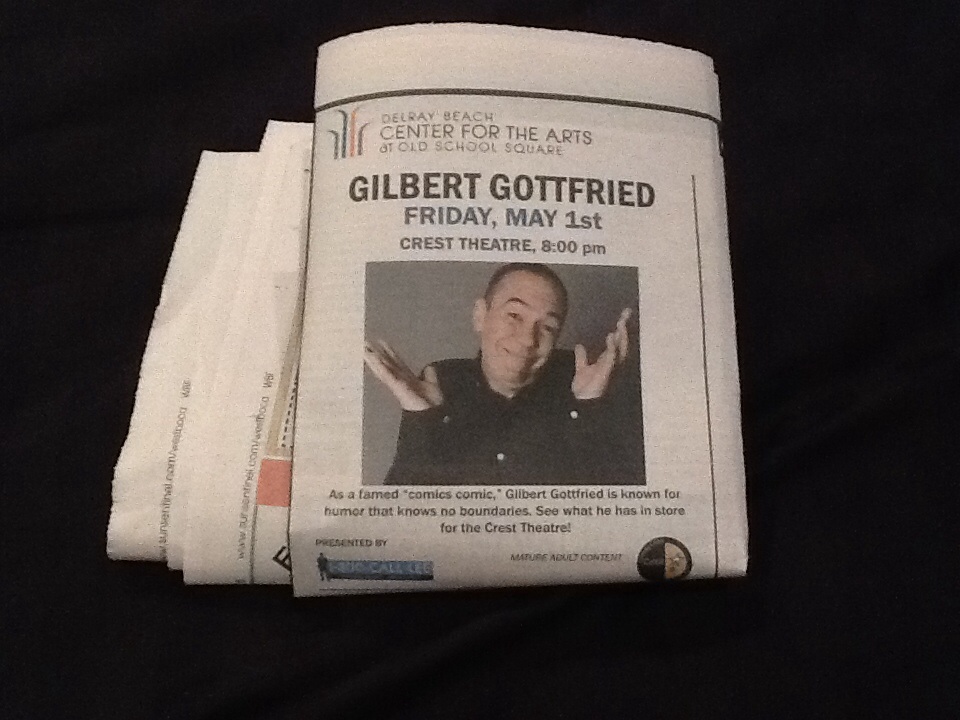 From delraycenterforthearts.com
MAY 1, 2015
CATCH A RISING STAR: GILBERT GOTTFRIED
8:00 pm – 10:00 pm
TIME
(Friday) 8:00 pm – 10:00 pm
LOCATION
Crest Theatre
51 N. Swinton Avenue
EVENT DETAILS
MAIN STAGE COMEDY @ the Crest Theatre and the Law Office of Lee Cohen present a Comedy Special Event with Gilbert Gottfried!
Friday, 8 p.m.; MATURE ADULT CONTENT.
Ticket information: $25/$50 (regular reserved); $100 (VIP/limited availability) – VIP ticket holders get: *Premium seating; *pre-show access to the Crest VIP Lounge with complimentary beer and wine; *exclusive VIP Meet & Greet with Gilbert Gottfried at Smoke Restaurant (Atlantic Ave. across from the Cornell Museum – show your Crest Theatre ticket for entry and 2 complimentary beverages).
As a famed comics comic, Gilbert Gottfried puts aside political correctness for his live performances and fires an onslaught of jokes that know no boundaries.