Summer Music Series at Boca Raton Amphitheater (Boca Raton)
* Summer Music Series at Boca Raton Amphitheater.
Here's The City Of Boca Raton's- Summer-2015 entertainment schedule.
All concerts are FREE!
________________
SUMMER MUSIC SERIES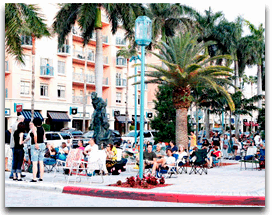 Summer Music Series at Boca Raton Amphitheater
Throughout the sweltering South Florida summer, the city of Boca Raton provides welcome relief with it's "Summer in the City" concert series. Kicking it off this Memorial Day weekend, this festive string of music events will further brighten any visit to the already bustling boulevard in the Mizner Park shopping district where the concerts will be held.
On Sunday, May 30th, at 7:30 PM, the Boca Ballet Theatre Company presents a mixed repertory program of all-time crowd pleasers, plus a sneak preview of the company's major upcoming productions.
Monday, May 31st, at 7 PM features the local New Gardens Band and Robert Sharon Chorale, who carry on their nine-year tradition of performing patriotic tributes to commemorate Memorial Day.
Friday, June 18th, Florida Atlantic University lavishes Mizner with a musical extravaganza, with excerpts from their Summer Repertoire Theater as well as the FAU Summer Concert Band.
Friday, July 16th, Solid Gold Music titillates us with its three-part harmonies and its extensive range of musical styles, from Top 40, to Latin, to Big Band and to Elton John.
Friday, July 30th gives us Jimmy Stowe and the Stowaways with their tropical Floribbean-style "rockin' in the tropics", Jimmy Buffett tributes and all. The last concert on Friday, August 13th, features Zella Lehr and ZMC Entertainment in a musical revue that captures the spirit of Hollywood and Broadway.
All concerts except the first one takes place at 7pm in the amphitheater at the northern stretch of Mizner Park. Admission is FREE, so bring a blanket & chair and find a cozy spot on the amphitheater lawn… enjoy!