Eggs Cetera Cafe (Lake Worth)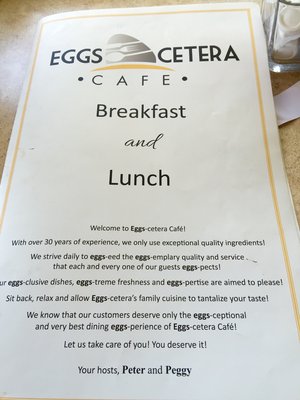 Eggs Cetera Cafe, 6346 Lantana Road, Lake Worth, Florida 33463, (561) 968-8200.
This past- Sunday morning, Jeff Eats and his good friend Roy had breakfast at a new breakfast-lunch joint…Eggs Cetera Cafe in Lake Worth.
Eggs Cetera which opened about a month ago has both indoor and covered outdoor patio seating…and is open 7 days a week 7am-4pm.
Eggs Cetera has an extensive all-day breakfast/lunch menu.
You can check menu/prices at eggsceteracafe.com.
The reason why my "comments" may seem a bit terse, is because they are!
Just so you know, the food was good, the service was good, the prices were right…absolutely no problems with the $9.99 meat omelet/home fries that I had- same for the $8.99 veggie omelet/grits that Roy ordered. That said, the toasted everything bagel (I had) and the plain toasted bagel (Roy had)- were beyond lousy…just imagine white bread disguised as a bagel and you'll be on the right page!
Now for the "terse"…prior to being seated- Jeff Eats and Roy had maybe a 5 minute conversation with Eggs' owner-Peter…among other things- we talked about his former restaurant Benny's On The Beach, his plans for Eggs Cetera, the Jeff Eats' blog and other restaurants in the area…2-3 minutes after that conversation, the hostess sat us at what had to be the worst-outside table…to keep this short, the wait-station was something like 1-foot from Jeff Eats' back when seated…you wanna talk cramped! Trust Jeff Eats, that "table" ruined what "would" have been a pretty strong-breakfast outing. Just between you and me, I coulda bitched and had the table changed- but then I'd only have had the bagels to dump on!
Let me wrap this up for you, this Eggs Cetera Café should do real-good…trust Jeff Eats- this guy Peter knows how to run a breakfast/lunch joint…but then again, just maybe he doesn't!
Now for the sticky part of this "conversation"- Jeff Eats knows that IF I AM PETER, 1-I don't give Jeff Eats a crap-table and 2-during the breakfast I stop by the table and see how Jeff Eats and Roy are doing…but I AM NOT PETER, so crap table and no visit tells me that I WON"T BE BACK FOR ROUND #2… and I know that there are a bunch of you guys out there who are saying "Jeff Eats who do you think you are?…but that's the call here!
Finally, just because Jeff Eats wasn't a happy camper doesn't mean that you shouldn't try this joint…just a word to the wise, don't order the everything bagel, don't order the plain bagel and sure as hell don't let them seat you by that wait-station!