Blue Bell Ice Cream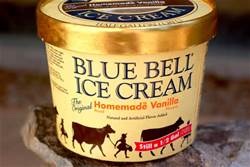 * Blue Bell Ice Cream.
I guess "this" explains why Publix was running a "Buy 1- Get 63 for Free" deal last week! Just kidding (it was buy one get one)…
_____
Blue Bell Ice Cream recalls all products over listeria risk
WFAA-TV, Dallas-Fort Worth, Texas 8:01 a.m. EDT April 21, 2015
Blue Bell's CEO says the ice cream company is "heartbroken" over the need to pull all of its products from store shelves. A possible health risk was found in half gallon containers of Chocolate Chip Cookie Dough ice cream produced March 17 and 27.
DALLAS — Blue Bell Ice Cream on Monday issued a voluntary recall for all of its products because of a possible health risk found in half-gallon containers of Chocolate Chip Cookie Dough ice cream produced on March 17 and March 27.
Known to millions as "the little creamery in Brenham," the Texas company explained its decision in a news release issued just before 9 p.m. CT.
USA TODAY
Blue Bell halts operations at Oklahoma ice cream plant
The recall includes products made at the company's Brenham plant as well as its facility in Broken Arrow, Okla. According to Blue Bell's statement, its ice cream, frozen yogurt, sherbet and frozen snacks:
"…have the potential to be contaminated with Listeria monocytogenes, an organism which can cause serious and sometimes fatal infections in young children, frail or elderly people, and others with weakened immune systems. Although healthy individuals may suffer only short-term symptoms such as high fever, severe headaches, stiffness, nausea, abdominal pain and diarrhea, Listeria infection can cause miscarriages and stillbirths among pregnant women."
With the rise of Listeria in the headlines, here's everything you need to know about the potentially fatal illness. Sierra Oshrin
READ: Blue Bell's press release
The company said it now has evidence of positive listeria found in products at different places and different plants.
USA TODAY
Listeria a risk for pregnant women, babies, elderly
Blue Bell said supermarkets in Texas, Alabama, Arizona, Arkansas, Colorado, Florida, Georgia, Illinois, Indiana, Kansas, Kentucky, Louisiana, Mississippi, Missouri, Nevada, New Mexico, North Carolina, Ohio, Oklahoma, South Carolina, Tennessee, Virginia, Wyoming and international locations have all been instructed to stop selling the products.
If you have any Blue Bell ice cream, do not consume it. Return it to the store where you bought it for a full refund.
Call Blue Bell at 866-608-3940 weekdays from 8 a.m. to 8 p.m. or Saturdays from 10 a.m. to 2 p.m. if you have further questions.