Mr. Potato Head
* Mr. Potato Head.
Just in case one-day you find yourself on Jeopardy!
from mom.me
Mr. Potato Head
This famous spud was the first toy to be advertised on television. From 1952 to 1963 parents had to provide their kids with actual potatoes to use as Mr. Potato Head's body. Hasbro began manufacturing the plastic potato body that currently comes in the box in 1964.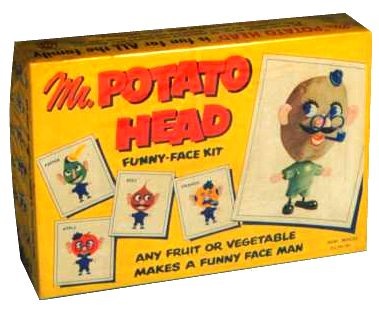 Just between Jeff Eats and you guys, whenever I have to spell/type the word potato- I "see" former Vice President Dan Quayle's face…do you guys have the same reaction?