The 4 Peace Band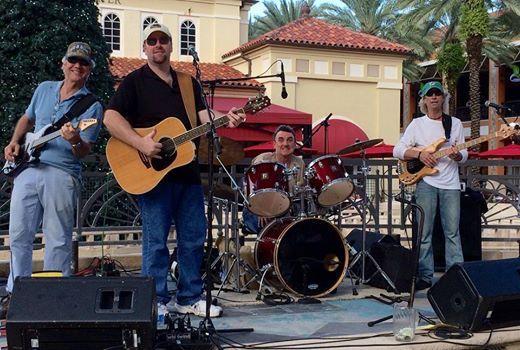 ***** The 4 Peace Band.
Yesterday (don't even ask!) Jeff Eats spent 2 hours, 38 minutes and 11 seconds-at the Delray Affair in Delray Beach…not gonna go into details, but something like 1,000 degrees in the shade on Atlantic Avenue, along with 409,005 of my closest friends, looking at 86,940 booths filled with God Only Knows What!
Anyway…
One of the musical acts "booked" was local South Florida 60's-70's cover band- The 4 Peace Band…
Long story short, while Mrs. Jeff Eats "strolled" the Affair, Jeff Eats got to watch/listen to The 4 Peace Band… and I gotta tell you that this band killed! Fronted by lead singer Jason Colannino- The 4 Peace Band played absolutely (to name but a few) first-rate Beatles, Stones, Eagles, Steely Dan, Crosby Stills & Nash covers.
Just between you and Jeff Eats, I was so impressed with this band, that this morning I passed The 4 Peace Band's "info" onto several local booking agents!
That's the story.
You can check the band-out at jasoncolannino.com.