G.H. Cretors
***** G.H. Cretors.
Jeff Eats "heard" about this 130 year old popped-corn company…Jeff Eats ordered online a G.H. Cretors' Sampler Pack…Jeff Eats received the Sampler Pack…Jeff Eats "ate" the Sampler Pack…
Trust Jeff Eats on this one, absolutely dynamite popped corn!
For info on G.H. Cretors- ghcretors.com.
A GOOGLE SEARCH- will turn up South Florida retailers for you guys.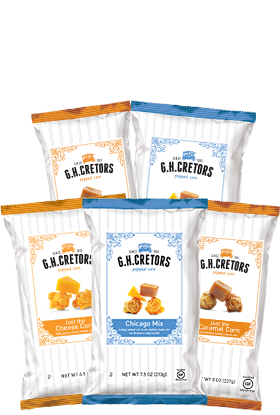 GH Cretors Sampler Pack
Don't know which kind of G.H. Cretors popped corn is your favorite yet? Order the sampler where you get 5 full size bags – delivered straight to you!
$19.98 5ct Sample Pack
Qty
Sample pack includes:
• (2) 7.5oz bags of Chicago Mix
• (2) 8oz bags of Just the Caramel Corn
• (1) 6.5oz bag of Just the Cheese Corn
Only Ingredients You Know!
• No artificial flavors or colors
• Made with real cheddar cheese
• Certified Gluten Free Gluten_Free