Hungry Bear Sub Shop (Miami)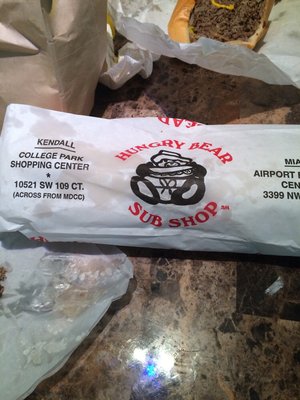 ***** Hungry Bear Sub Shop.
Here's another terrific- "out of sight, out of mind" joint for you guys…Hungry Bear Sub Shop!
Way-back on 1/7/13 Jeff Eats told you guys- about the Hungry Bear Sub Shop located at 10521 Southwest 109th Court in Miami…
Long story short, until yesterday afternoon- Jeff Eats hadn't been back since that- tale (reprinted down below) first appeared!
Anyway,
Had lunch at the 10521 Southwest 109th Court joint- and I gotta tell you that the honey mustard chicken and cheese-steak subs that Jeff Eats and Mrs. Jeff Eats split- absolutely killed!
No fooling around, Hungry Bear Sub Shop is right up there with the best sub-shops in South Florida. The only problem with this joint, is that it is something like 57 miles (one way) from my Boca Raton home- so like I said 2.6 seconds ago, "out of sight, out of mind."
All I can tell you guys is- that if you live or work anywhere near these joints (don't forget, there are 2-of them in Miami) do yourself a big favor- and catch some subs there- they're really good!
__________________
January 7, 2013
***** Hungry Bear Sub Shop, 3399 Northwest 72nd Avenue, Miami, Florida 33122, (305) 592-2515 and 10521 Southwest 109th Court, Miami, Florida 33178, (305) 595-8385.
Jeff Eats knows and you guys know that "sub" joints are a dime a dozen down here in South Florida…Like anything else, you got some great ones, some good ones and some crap ones. Well! Hungry Bear Sub Shop is one of the great ones. Just so there is no confusion, there are 2-of them in Miami. Now nothing for nothing, Jeff Eats recently "tried" the 10521 Southwest 109th Court outpost—so I can only talk-on that one…
Now for background noise—I'm going to assume that you guys know exactly what this joint looks like and how it works. For you folks who just came in from Venus or Mars—handful of tables, order at/pickup at the counter—sign board with loads of small/large hot and cold subs, handful of salads/sides.
Sampled "items" included…honey mustard chicken sub, tuna salad sub, cheese steak sub, cheese burger sub. As I intimated about 9 seconds ago, Hungry Bear Sub Shop makes some absolutely dynamite subs. Real-nice crispy sub bread and the "fillings" were all delicious.
You guys do know that this food "reviewing" business is 1000 percent subjective…What Jeff Eats might like–you guys might hate and vice versa. So–I'll leave it up to you to decide if the right "call" was made here.
Hungry Bear Sub Shop is open Monday-Saturday 10am-8pm and Sunday 10am-5pm.