The Taco Lady (Lake Worth)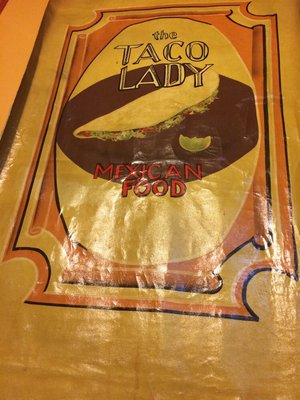 ***** The Taco Lady, 71 North L Street, Lake Worth, Florida 33460, (561) 588-3638.
If you wanna eat off-the-chart delicious fast food (order at the counter/pickup at the counter) tacos, quesadillas, enchiladas, burritos. other Mexican stuff- in an absolute hole-in-the-wall joint…then you gotta eat at The Taco Lady in Lake Worth.
Trust Jeff Eats, The Taco Lady with its handful of tables is a homerun!
The Taco Lady is open Sunday 2pm-7pm, Monday-Saturday 11am-9pm.
You can check menu/prices/info at thetacolady.net.
The Taco Lady Menu
BREAKFAST BURRITOS – $5.50
Egg, Potato and Bacon
Egg and Sausage
Egg and Chorizo
Potato and Bacon
Ranchero (Egg, Cilantro, Onions, and Bell Peppers)
Egg, Bacon, Sausage and Potato $7.50
APPETIZERS / APERITIVOS
Chips and Salsa $5.50
Nachos with Cheese $7.50
Nachos/Meat, Beans, Cheese $9.50
Nachos (fully loaded) $10.50
Quesadilla with Cheese $6.50
Quesadilla/Cheese, Meat, Salad $8.50
Taco Salad/Chips $9.50
A LA CARTE / SOLOS
1 Hard Shell Taco/Meat or Beans $3.00
1 Soft Shell Taco/Meat or Beans $3.50
1 Taquito/Meat or Beans $2.50
1 Double Decker/Meat or Beans $3.75
ENCHILADAS (2) $7.50
Meat, Cheese or Bean
Covered w/ Sauce, Cheese and Salad
TAMALES (2) $7.50
Covered w/ Sauce, Cheese and Salad
STUFF
A Bowl of Stuff $7.00
Bowl of Rice and Beans (small) $3.00
with Salad $3.50
Bowl of Rice and Beans (large) $4.50
with Salad $5.00
Toppings: – Lettuce – Tomato – Onion –
Cheese – Salsa – Sour Cream
Meat Choices: – Beef – Chicken – Pork
– Shredded Beef
Rice Choices: – Yellow – Mexican – Brown
– White
Bean Choices: – Refried or Black
BURRITOS
Regular Burrito: Meat, Rice and Beans $10.00
(inside or outside) w/ salad
Mini Wet: Filled/Meat, Rice, Beans, covered $8.00
with Sauce, Cheese and Salad
El Grande Wet (same as above): with Red and/or Green Sauce $10.00
The "Big Daddy" (5 lbs) $40.00
Meet the Challenge (ask your server)
Veggie Mini Burrito w/ Salad $7.00
Veggie Regular Burrito w/ Salad, Rice and Beans $8.00
Veggie Wet Burrito Grande w/ Salad, Rice and Beans $8.00
TACOS
Hard Shell Tacos
2 for $5.75
3 for $7.75
4 for $9.75
With Rice & Beans Add $3.00
Soft Shell Tacos
2 for $6.75
3 for $9.75
4 for $12.75
With Rice & Beans add $3.00
MIX YOUR TACOS
1 Hard Shell/ 1 Soft Shell $6.25
2 Hard Shell/ 1 Soft Shell $8.75
2 Soft Shell/ 1 Hard Shell $9.25
With Rice & Beans add $3.00
TAQUITOS: (Soft Corn)
2 for $4.75
3 for $6.75
4 for $8.75
With Rice and Beans Add $3.00
SIDE DISHES
Rice and/or Beans in a Container
1/2 lb. $2.50 1 lb. $4.50 2 lbs. $8.00
Salsa 1/2 lb. $2.50 1 lb. $5.00
Hot Salsa 1/2 lb. $5.00 1 lb. $10.00
BEVERAGES
Canned Soda or Water $1.25
COMBINATION PLATE
1 Soft Shell Taco, 1 Hard Shell Taco,
1 Tamale, 1 Enchilada, Rice, Beans and Salad $14.00
DINNER PLATES
Fish tacos every Friday
Meat, Rice, Beans, w/ Salad and 2 Tortillas $10.00
Quesadilla Dinner w/ Rice, Beans and Salad $10.00
Enchilada Dinner:
2 Enchiladas w/ Rice, Beans and Salad
Red or Green Sauce or Both $10.00
Tamale Dinner:
2 Tamales, Rice, Beans and Salad $10.00