Hooters (Boca Raton)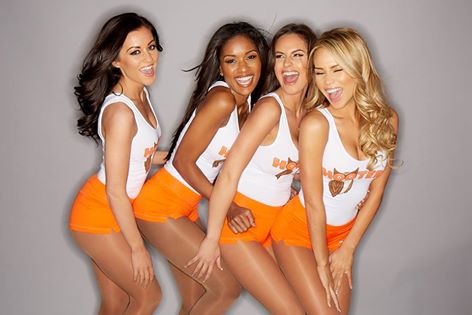 Hooters, 2240 Northwest 19th Avenue, Boca Raton, Florida 33431, (561) 391-8903.
Jeff Eats is gonna take a shot here and assume that you guys know what type of a joint Hooters is…for those of you who have been living on Mars for the past 20 years or so- national sports bar chain, full bar, tons of tvs, waitresses in short shorts/tank-tops, mediocre food. Give or take, there are something like 460 locations in the United States- with a load of them in Florida. Best guess here, including last night- maybe I've eaten in a-Hooters something like 6 times in my entire lifetime!
Real fast story,
Last night Jeff Eats, Mrs. Jeff Eats, Daughter Jeff Eats and Son Jeff Eats ate in the Boca Raton joint for the first time…chicken Caesar, breaded wings (garlic parmesan, bbq), cheeseburger sliders, French fries, onion rings, chicken quesadilla, pulled bbq pork sandwich, blackened mahi sandwich and all I can tell you is that everything was MEDIOCRE. No fooling here, every item was just BLAND. Trust me, I know that the word "bland" means all kinds of things to people- but for what it's worth, everything- literally had no taste- if that makes sense to you? Just so we are straight with each other- the previous 5 times that I had eaten at a-Hooters- were "passable" meals-but nonetheless passable- last night's meal which by-the-way was the first at the Boca joint- absolutely stunk!
Now onto the waitresses…in Jeff Eats' case- the waitress angle- its sort of like window shopping with a cancelled credit card…or something like that!
If you are still interested, you can check menu/prices/locations/info at hooters.com.
To wrap it up, Jeff Eats isn't particularly looking forward to there being a #7 Hooters' outing!
.