ENOUGH ALREADY!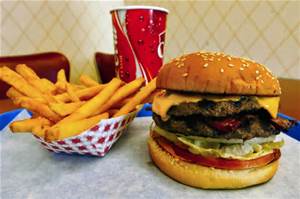 * ENOUGH ALREADY!
I don't know about you guys…but all day long Jeff Eats' computer gets "bombarded" with all kinds of unsolicited EATING HEALTHY- posts!
Below, are 6- that I received in just the last 9 minutes….
This Pantry Staple May Add Years to Your Life
5 Tips for a Super-Healthy Smoothie
3 Ways Your Healthy Dessert is Hurting You
7 Easy Tricks For a Healthier Soup
No. 1 Secret to Weight Loss Success
5 Best Breakfasts To Boost Weight Loss
I say enough already…
If eating a FLAT-TOP-GRILLED CHEESEBURGER & FRENCH FRIES with a 16oz COKE twice a week is gonna shorten my life-span by 11 days…then so be it!
Can't wait for the day- when "they" scientifically discover that fatty burgers keep people from developing Alzheimer's.