Swifty's Market Grill & Deli (Boca Raton, Pompano Beach)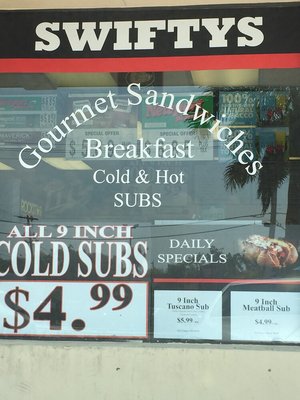 ***** Swifty's Market Grill & Deli.
A recent e-mail…
Hey Jeff,
Husband and I moved to Boca from Philly 6 months ago. Have tried out a number of your recommendations and we got similar tastes.
On Wednesday, I have a load of Philly family coming to stay with us over the holidays.
What's a good Boca joint for subs especially Philly cheesesteaks where I can pick up a load of sandwiches for a big casual dinner?
Thanks in advance,
Laura Messina
______
Laura Messina:
Give Swifty's Market Grill & Deli in Boca Raton a close look.
Swifty's makes terrific subs.
Nothing for nothing, you-being from Philly-may know better than Jeff Eats, but I gotta rate Swifty's Philly cheesesteak sub absolutely- awesome!
Just so you know, in addition to its Boca Raton joint, Swifty's also has a location at 701 East Atlantic Avenue, Pompano Beach, Florida 33060, (954) 781-1312.
Down below is a reprint of my 4/29/14 Swifty "review."
Thanks for reading…
________
Posted on April 29th, 2014
***** Swifty's Market Grill & Deli, 2001 Northwest Boca Raton Boulevard, Boca Raton, Florida 33431, (561) 395-7131.
Now, let's be honest with one- another…
Have you ever met a sub-hoagie-grinder-blimpie (you- fill in your favorite regional "term") that you didn't like? Now for sure, some subs (that's what Jeff Eats calls them) are better than others…but I can't ever recall saying…"Boy this sub stinks. I'm not going to eat it. Let me just throw it in that garbage can over there."
Anyway,
Not sure on this…but over the past few years- I must have driven by Swifty's Market Grill & Deli something like 25,209,849 times without ever stopping. From the outside-and actually from the inside too–it's basically a "hole in the wall" convenience store. As the old saying goes, "Don't judge a book by its cover."–well- in the back of the convenience store is- a take-out-only- sub-counter that makes the full-boat of hot and cold hoagies..
For what it's worth, I just got back from Swifty's Market Grill & Deli and as I type–I am enjoying one of the most delicious grilled Philly Cheesesteak Subs (chopped steak/American Cheese/grilled onions/peppers) that I've ever had. Really just that simple!
Based alone-on its Philly Cheesesteak Sub…Swifty Market Grill & Deli is a must try.
For the curious, Jeff Eats was "tipped" this morning (while walking Jiggy Eats) to- Swifty's by a Comcast serviceman who was working down the block from my home.
Let me wrap this up…
Finally-Comcast did something right!
Swifty's Market Grill & Deli is open Monday-Saturday 7am-10pm, Sunday 9am-9pm.