The Four Preps (Kings Point- Delray Beach)
* The Four Preps.
The legendary 50's-60's vocal group makes a rare South Florida appearance at Kings Point in Delray Beach on Friday, March 27th at 8pm.
Trust Jeff Eats on this one, The Four Preps featuring original lead singer, Bruce Belland is an absolute must see…good looks alone- don't get you millions of records sold, 8 gold records, 3 gold albums, tons of movie/tv appearances and countless live concert dates!
You can catch tickets at boxoffice.kingspointdelray.com.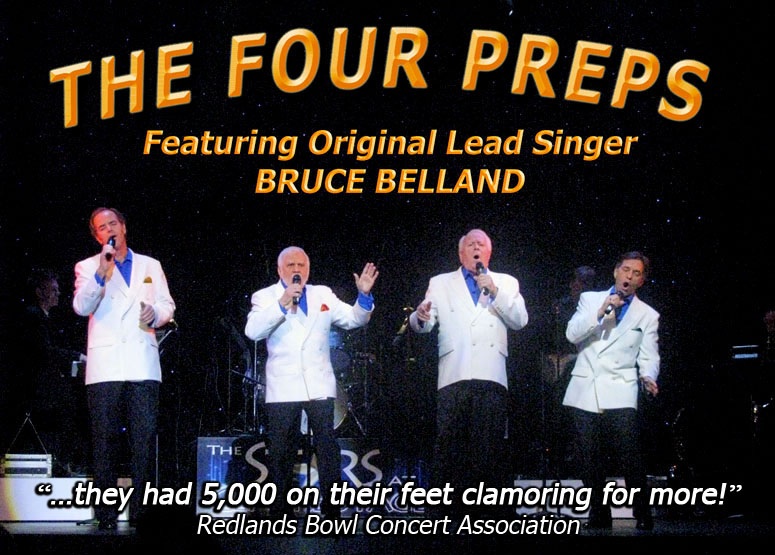 from thefourpreps.com
THE FOUR PREPS
…featuring Original Lead Singer BRUCE BELLAND
The sound of any great vocal group is ultimately defined by the voice of its Lead Singer. In the case of THE FOUR PREPS, that voice belongs to BRUCE BELLAND who Co-founded the Preps in 1954 while still in high school and has been their front man ever since. Bruce is the only original member heard on every Four Preps track ever recorded.
Over five decades he's become what one critic called "that rare creature – an Original Lead Singer from the Fab. 50's who can still bring audiences to their feet."
It all began in the Fall of 1954 when 35 girls and not one boy showed up to audition for the annual Hollywood High student talent show. The next day the school bulletin pleaded for "any guys out there who can do anything" and a show business tale of triumph began.
Unable to resist such amorously appealing odds, four talented and highly motivated boys in the school choir, Lead Singer Bruce Belland, baritone Glen Larson, bass Ed Cobb and high tenor Marvin Ingram, literally formed a quartet overnight and stepped into the crinoline void as THE FOUR PREPS.
After stealing the show with choice hits by their idols, The Crew Cuts and The Four Lads, they quickly found themselves in demand for every kind of event imaginable.
"We didn't turn anything down", Bruce remembers. "We once performed on the back of a flatbed truck for the opening of a parking lot. They paid us $75.00; enough to buy gas and our first matching sport coats. We were totally stoked."
In 1956 legendary Capitol Records Producer Voyle Gilmore, who recorded stars like Judy Garland, Frank Sinatra and Louie Prima & Keely Smith, heard a tape of a live performance by the Preps and signed them to a long term recording contract. At the time the Preps were the youngest act ever to sign with a major record label. (In an article about their signing, Variety dubbed them "Capitol's jolly juveniles".)
They quickly became a favorite of the nation's disc jockeys and soon their voices blanketed the airwaves. As 1957 began, Cashbox honored them as "the most promising Newcomer of the Year." and critics began to praise their distinctive sound – and Bruce's Lead – as "fresh", "clean", "bracing", "warm" and "rich" which inspired Capitol to renew their contract for a second year while searching for that elusive hit record.
Their first national television exposure came on "The Adventures of Ozzie and Harriett" playing singing fraternity brothers of their former HHS classmate Ricky Nelson. That led to their first national tour with Nelson which began the same week LIFE magazine coined the term "Teen Idol" under Rick's picture on its cover. That SOLD OUT tour created a publicity tsunami for the four talented newcomers.
Shortly after the boys returned to Hollywood, "26 Miles" (written by Bruce and Glen) hit the airwaves and their young lives were changed forever. That million-selling song (9 million at last count) about the "island of romance" became what Dick Clark called "the first surfer hit" and took the Pop world by storm. (In their recent biographies, both Jimmy Buffett and Brian Wilson cite that Preps classic as their enduring teenage influence).
Bruce and the Preps were soon featured in LIFE magazine, on countless Ed Sullivan and American Bandstand Shows and capped it off by being honored as "Newcomer of the Year" in Billboard Magazine and signing for an engagement at the world famous Coconut Grove a scant 24 months after attending there as high school prom goers.
Their superstar status was confirmed when they Co-Starred in an Award-winning TV Special with Bing Crosby, Frank Sinatra, Bob Hope, Rosemary Clooney and Louie Armstrong and then in the first surfer film, "Gidget" opposite Sandra Dee, James Darren and Academy Award winner Cliff Robertson.
In 1962 The Preps' career took another quantum leap with their first LIVE concert album, "The Four Preps on Campus" which soared to the top of the charts. One track, "More Money for You and Me", highlighted the Preps' uncanny vocal parodies of other groups and became a Top Ten single that the nation's DJs voted "the novelty record of the year".
That first LIVE album was followed by two more in their legendary "On Campus Series, "Four Preps – Campus Encore" and "Four Preps – Campus Confidential" making them the only group of their genre to ever record three consecutive "LIVE IN PERSON" albums.
For three straight years in the mid 60's, The Four Preps were the country's Number One College Concert Attraction, touring in their own 13 passenger plane and averaging 150 campus concerts a year. They went on to headline in Las Vegas, Reno, Lake Tahoe, Atlantic City, the Hollywood Bowl and Greek Theater and other prestigious venues across North America, and throughout Europe and Asia, prompting Variety to describe their sold out live performances as "all the rage these days!".
In 1969 after a successful 15 year collaboration, the original Four Preps: Belland, Ingram, Larson and Cobb, disbanded to pursue other highly successful individual careers in the entertainment industry.
BRUCE BELLAND – who co-wrote the Preps' hits, has created songs for Willie Nelson, Johnny Mathis, Roy Clark, T.G. Shepherd, Sammy Davis, Lena Horne, Donny Osmond, Della Reese, Herman's Hermits, The Mouseketeers and the Mormon Tabernacle Choir and written special material for Johnny Carson, Chevy Chase, Bob Newhart, Tim Conway, Steve Allen and the Smothers Brothers as well as feature films, numerous TV screenplays and theatrical productions including two on Broadway. As Producer of over 1,000 hours of TV, including "Name That Tune" and "Truth or Consequences", he's been a three time Emmy nominee, senior NBC programming executive and done voices for many animated features including the Disney classic, "Jungle Book". As Co-Author of the Official Anthem of the Bi- centennial of the U.S. Constitution, he was awarded the Freedom Foundation's Presidential Medal of the Arts and cited in the Congressional Record.
In 1989, at Dick Clark's suggestion, Bruce and Ed Cobb re-formed The Four Preps with David Somerville of The Diamonds and Jim Pike of the Lettermen (who was subsequently replaced by Jim Yester of The Association.) That foursome toured and recorded until Cobb retired in 1997. (Ed Cobb died in 1999 as did original high tenor Marv Ingram.)
Recently PBS asked Bruce to re-assemble a version of The Four Preps for the star-studded musical special "Magic Moments" featuring legendary hit makers: Pat Boone, Patti Page, Debbie Reynolds, The McGuire Sisters, The Chordettes, The Platters, The Four Preps and their high school idols… The Crew Cuts and The Four Lads. Over 100 million viewers have watched that history-making Special which started a groundswell of demand for a full blown Four Preps concert tour.
It became clear that, despite occasional personnel changes in the other three voices, Bruce's distinctive style and sound – which once inspired Ed Sullivan to introduce The Preps as "the greatest recording group in the country" – has garnered a legion of fans that still remain loyal many decades later.
As the only original member of The Four Preps still actively performing, Bruce loved the idea of going back on tour and once again singing Lead in a great harmony ensemble. So now there's a new touring version of The Four Preps strolling millions of Oldies lovers back down memory lane with the distinctive song stylings of the voice that has defined their music from the start.
Meet today's other Preps:
BOB DUNCAN high tenor, is one of the harmony world's most successful and seasoned performers. He first launched his vocal career with The Safaris' hit "Image of a Girl" then sang with The Ray Coniff Singers, The Jubillaires gospel quartet and the Blenders on Lawrence Welk's television show for many seasons. He went on to star with The Diamonds for twenty years and with The Crew Cuts for almost a decade before joining Bruce in The Four Preps.
MICHAEL REDMAN baritone has, over five decades, performed and recorded with Frank Sinatra, Barbra Streisand, Elvis Presley, Henry Mancini, Dolly Parton and Kenny Rogers and on TV classics The Smothers Brothers, Donnie and Marie and Lawrence Welk. He's on movie soundtracks for "Annie", Blues Brothers", "Big", "Lonesome Dove", "Apocalypse: Now", and "Oh God, Books I, II And III". Until joining The Four Preps, he was a key member of The Crew Cuts.
JIM ARMSTRONG The newest member of THE FOUR PREPS brings with him a colorful and well-rounded background of show business experience and diverse musical talents. As a gifted pianist, vocalist, arranger and actor he has performed with Debbie Reylolds, Juliet Prowse, Vickie Carr and Henry Mancini at prestigious venues around the world. With his rich bass voice and unerring musical instincts, Jim provides a solid musical foundation for the Preps legendary harmonies.