The BSTREET BAND (Miami Beach, Coconut Creek, Boca Raton, Stuart)
* The BSTRRET BAND.
The New Jersey based band- considered by many to be America's #1 Bruce Springsteen tribute band- is "in" for a few South Florida dates…
Assuming-you are a Springsteen fan- go see them, the band puts on a great show!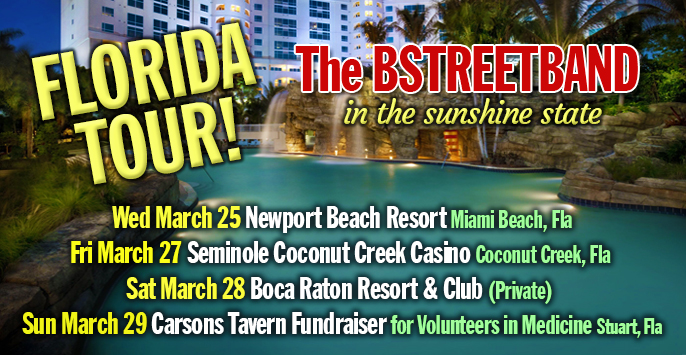 SPECIAL CONCERTS FOR OUR FLORIDA FANS!
Hey Gang – great news-The BStreetBand is heading South!
The BSTREETBAND has decided to rush the heat wave… first rockin' out our Florida Fans and then bringin' the heat back up North! Get a little Glimpse of the start of the summer schedule below!
Approaching the celebration of their 35th year (and that's not a typo!) The BStreetBand continues to be the #1 Tribute to Bruce Springsteen and the Longest Running Tribute Band in the World.
Check out our Florida Tour Dates below:
Wed March 25 Newport Beach Resort Miami Beach, Fla (8 Pm) Famous 305 Kitchen Band Located in Tiffany Room 16701 Collins Ave Sunny Isle, Fla Info call (305) 949-1300 Its Lobster Night in the Newport kitchen and the its off to see the Band in the Tiffany Room
Thu March 26 Jazziz Nightlife **Canceled by Venue** Boca Raton, Fla (Available)
Fri March 27 Seminole Coconut Creek Casino Fla (8:30 Show till 12) Located at Legends NY Steak House, 5550 NW 40th street Coconut Creek, Fla
Sat March 28 Boca Raton Resort & Club (Private) Boca Raton, Florida
Sun March 29 Carsons Tavern – Fundraiser for Volunteers in Medicine (7 Pm Start) $25 advance: Cut off for advance Friday March 27 @5pm: Door price will be $40 2883 SE Ocean Blvd, Stuart, FL (772) 286-7611