Strike 10 Bowling & Sports Lounge (Hallandale Beach)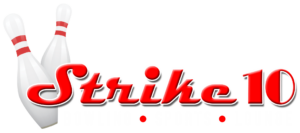 * Strike 10 Bowling & Sports Lounge, 501 South Federal Highway, Hallandale Beach, Florida 33009, (954) 417-6066.
Yesterday- Jeff Eats and Mrs. Jeff Eats spent a couple of hours at The Village At Gulfstream Park in Hallandale Beach…to say that this "center" is a retailer's nightmare would be putting it midly…other than for a few restaurants doing-business, the center was literally a freaking ghost town…just for the record, we were there on a gorgeous Sunday- 83 degrees- roughly from 5:30pm-7:45pm and ate at the Yard House which was packed both inside/outside patio!-by the way, Yard House's food and service were right on the money!
Long story short,
While killing time- we walked into a "new" bowling establishment Strike 10- which apparently had just opened- a few days earlier…bowling alleys, some pool tables, bar, restaurant, loads of tvs and I gotta tell you, unless I am totally missing something here- whoever owns this joint has absolutely no idea as to- how to design, build or-run a BOWLING ALLEY- RESTAURANT. Trust this 119-bowler when I tell you, I couldn't figure-out if this was an- adult night spot, a kids' birthday party joint, or a community center in a retirement development!
Now, I could be dead wrong and since Jeff Eats- has got no-skin in this game, I hope I am- but I'll bet you guys a buck- that Strike 10's owner is in for a real tough sled-ride here. While I was there- Jeff Eats could only-think "big fire insurance policy"- but that's just me!
I know- I got no real "details" listed, it just frustrates Jeff Eats-that "someone"-would spend all kinds of money- planning/building what looks to me like an abortion in the making!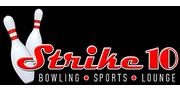 STRIKE 10 – BOWLING & SPORTS LOUNGE
STRIKE 10 features 11 bowling lanes, pool tables, a full bar and restaurant including two small bowling lanes designed especially for kids! STRIKE 10 is an exciting place where you can bowl with your friends, dine with your family, and enjoy live sports broadcasts on over 26 plasma TVs. So whether you are 4 or 74, STRIKE 10 will be the place to go for fun!
For more information please email info@strike10bowling.com or visit www.strike10bowling.com
PHONE
954-417-6066
HOURS
Monday – Friday: 5PM-1AM
Saturday-Sunday: 1PM-2AM
(subject to change in April 2015)
WEBSITE
http://strike10bowling.com