Blondies (Tequesta)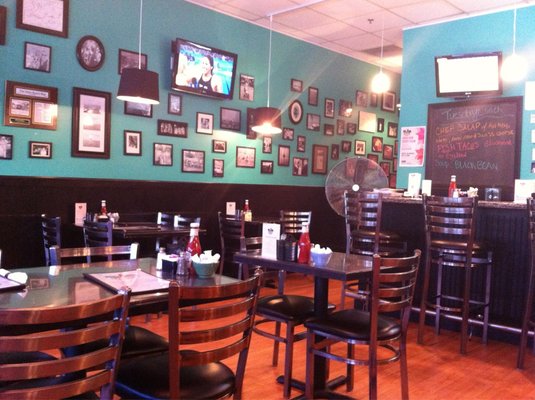 ***** Blondies, 181 US Highway 1 North, Teqesta, Florida 33469, (561) 744-0807.
Here's another "out of sight-out of mind" joint for you guys…Blondies in Tequesta.
Hadn't been back to Blondies -since I first told you guys about it on 2/19/13 (writeup is down below)…Had breakfast there this morning and the thick-French toast still kills!
Definitely a great little neighborhood diner…just a drop too far from Jeff Eats' Boca Raton home-to be "my" go-to-diner-joint!
__________
February 19, 2013
***** Blondies, 181 US Highway 1 North, Tequesta, Florida 33469, (561) 744-0807.
For our purposes…let's call Blondies a "neighborhood diner."
For a pleasant change–no faux 50's look or falling a-part "formica" deal – but rather…warm tones–semi-upscale counter/booth/table seating setup.
Blondies is open Monday-Saturday 7am-9:30pm, Sunday 7am-3pm. You can check menu/prices at www.blondiesgoodfood.com.
Now for the story…absolutely loved the joint. Recently did lunch…
Blondies does-a-beautiful thing, that being, it serves breakfast all day. So while Mrs. Jeff Eats and her friend Ellen where able to eat salads, I (or is it me?) and Ellen's husband Steve–were able to stuff our faces on breakfast stuff at 3 o'clock in the afternoon. I gotta tell you, Blondies makes an absolutely perfect thick-French toast and has a breakfast sub (3 scrambled eggs, ham, bacon, sausage, American cheese) that alone is worth the price of admission. To round out this story for you, Jeff Eats "forced" himself to sample the tuna and chicken salads that the ladies had—they were also delicious. Throw in a fried macaroni & cheese nibblet appetizer and a bacon cheeseburger with fries—and I gotta tell you, Blondies is an absolute homerun.
Let me wrap this one up…
Blondies was one of the best neighborhood–mom & pop diners I've ventured into–down here in sunny South Florida.
One final thought, for you faux 50s and falling apart formica diners out there…please don't take umbrage with Jeff Eats' "décor" comments—I still love you guys and always will!