Man Tips Waitress Generously For Hot Dog
* Man Tips Waitress Generously For Hot Dog.
Jeff Eats just read the below-story on aol.com…
I was just thinking, would this "story" have the same warm-fuzzy feeling…if the deceased brother had choked to death while eating a hot dog?
Jeff Eats has an inquiring mind…personally-speaking, I think that the "reporter" should get a-hold of "Wes" (that's assuming that he is the tipping-brother and not the deceased brother) and get some clarification- on this story! For example, we know that… the "tip" is what the late brother's age would have been- now, what would happen if the "bill" for hot dogs eaten was $300?- a $36 tip would be in cheapskatesville…we need clarification!
_____________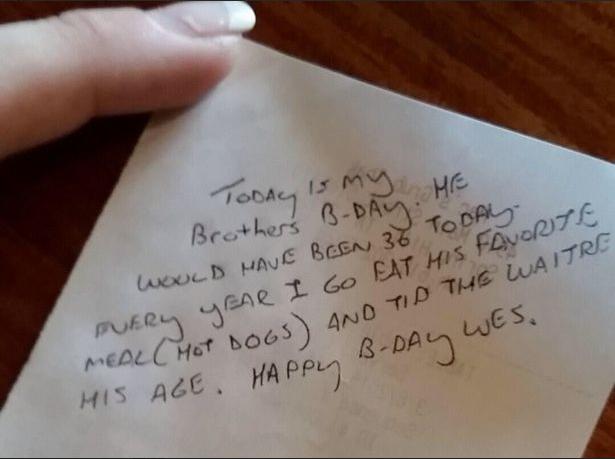 Waitress Gets Enormous Tip and Touching Note
SAN FRANCISCO — A waitress recently got a generous tip, along with a sweet note, thanks to one man's tradition of honoring his late brother.
The man apparently ordered a hot dog at a restaurant, and tipped the waitress 36 dollars.
A note on the back of the receipt read, "Today is my brother's b-day. He would have been 36 today. Every year I go eat his favorite meal (hot dogs) and tip the waitress his age. Happy B-Day Wes."
The waitress shared a photo of the note online to imgur, writing, "This guy sat in my section & left a note on the back of his receipt."
The sweet note has since gone viral, with more than 1 million views