Parents Reunited With Kidnapped Daughter 17 Years Later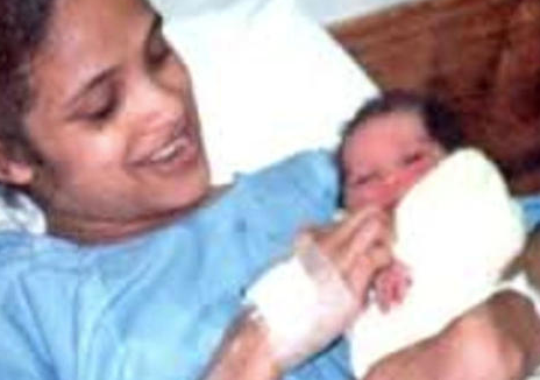 * Parents Reunited With Kidnapped Daughter 17 Years Later.
Jeff Eats just read the below story on dailymail.com.
Do me a favor and read the last paragraph of the story- and tell me, who is crazier, the kidnapper or the biological mother?
______________
Parents Reunited With Kidnapped Daughter 17 Years Later
South African mother is reunited with her daughter nearly 18 years after she was snatched from her arms in a hospital.
According to the Daily Mail, the teen daughter of 37-year-old Celeste Nurse is back in her rightful home after being kidnapped by a woman disguised as a hospital employee.
Back in 1997, Celeste had fallen asleep with her three-day-old daughter Zephany, but as she dozed off a woman dressed as a nurse plucked the newborn and raised her as her own. The woman apparently had just had a stillbirth, and even her husband believed Zephany was their own.
For the past seventeen years, Celeste and her husband, Morne, celebrated Zephany's birthday in the hope that one day she would return. Turns out, she was only a couple of blocks away. Even crazier, Zephany was friends with her own biological sister, Cassidy.
One day Morne spotted the two girls together and instantly knew who it was.
"I saw this girl and immediately had a burning sensation in my chest," he told the Daily Mail. "It was my daughter there and fell in love with her when I saw her. […] It was a feeling of confusion, connection, love, attraction, everything in one."
He took a photo of the girl and brought it to Celeste, who recognized her at once. The parents, who are divorced, did some amatuer detective work and found a picture of the woman Zephany believed was her mother, and witnesses to the 1997 kidnapping were able to positively identify her as the culprit. Police administered a DNA test which confirmed the connection.
The kidnapper is now on trial, and Zephany (who goes by a different name that hasn't been released) is in the care of child welfare authorities.
Celeste has no ill will towards the woman who stole her baby. She told the Daily Mail she would like to "thank her for taking care of her daughter and raising her to be a kind, clever, beautiful, young woman."