Godfather's Authentic Subs (Deerfield Beach)
* Godfather's Authentic Subs.
Literally- just this second Jeff Eats got the below pr-email from Godfather's Authentic Subs.
Just between you and Jeff Eats, I've met Gianni Russo a couple of times- pretty cool guy and terrific singer.
Jeff Eats is gonna try and get "down" to this thing…and give some of Godfather's subs-a taste!
Thought that some of you guys-might also like to-go!
______
From: Krysalee Reyes
To: Jeffrey Richman
Sent: Tue, Mar 3, 2015 7:23 am
Subject: Godfather star to visit Godfather themed sub shop in Deerfield
Hi Jeffrey,
How are you? I introduced myself to you in December. I represent a new restaurant called Godfather's Subs, this Godfather themed restaurant is really exciting- Godfather's Authentic Subs in Deerfield. Wouldn't you want to try the Sonny, Michael, Fredo or Tessio?
It's a new Godfather themed sandwich shop in Deerfield. They are going to have one of the Godfather's iconic actors and characters there this Saturday.
Godfather Star to Visit the newly opened Godfather's Authentic Subs in Deerfield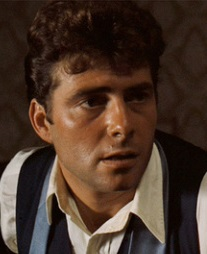 Gianni Russo who played Carlo in The Godfather and The Godfather: Part II will host a Meet and Greet at the Godfather's Authentic Subs this Saturday.
Date: Saturday March 7th
Time: From 11:30am to closing.
Where: Godfather's Authentic Subs just off A1A across from JB'son the Beach.
241 NE 21st Avenue
Deerfield Beach, FL
Gianni Russo is one of the most iconic characters from the Godfather, having married Connie Corleone and responsible for the death of Sonny Corleone. Mr. Russo will be signing and taking pictures with fans!
Godfather's Authentic Subs is a brand new restaurant that opened up near the beach in Deerfield. "We are going to make you a sandwich that you can't refuse." You can order the Sonny, Fredo, Tessio, Michael, etc. https://www.facebook.com/GodfathersSubs
The Carlo is a cold sandwich with: prosciutto, fresh mozzarella, basil, tomato, balsamic glaze, extra virgin olive oil.
Media Contact: Krysalee Reyes, Pinnacle 561-338-3940 kreyes@pinnacleadgroup.com
Restaurant Contact: 754.212.4598
Please let me know if you would be interested in attending or need more information!
Thank you,
Krysalee