DISH OF THE WEEK (Sunday- 3/1/15- Pizza Chef Italian Bistro- Boca Raton)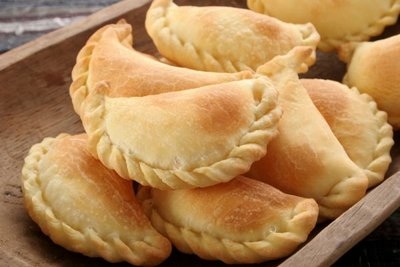 ***** DISH OF THE WEEK (Sunday- 3/1/15).
One of Jeff Eats' favorite menu items…
CHICKEN EMPANADA
$2.25
Pizza Chef Italian Bistro
23269 State Road 7
Boca Raton
(561) 477-5252
Latest Review: 4/25/14
I know! Pizza Chef Italian Bistro- EMPANADA…the owner is originally from Argentina! Mystery solved.
Long story short, this joint makes delicious empanadas…4-kinds…meat, chicken, spinach, ham & cheese- they're all dynamite. Like I said up-top $2.25 a pop, but if you buy them like Jeff Eats does-12 (that's a dozen) at a time, they run a buck & half a piece! Betcha didn't know that being a mathematician was a prerequisite of being a food-blogger!-that's why there are so few of us.
This Pizza Chef Italian Bistro joint is an absolute hole-in-the-wall…I'm thinking maybe on a good day it seats 30…
In addition to those empanadas- its- got… the full-boat mom & pop red sauce Italian joint menu and I am telling you that- Pizza Chef's food is really good.
For what it's worth, since I first found the joint- I have recommended it to a ton of people and not one single person-yelled at me for making a bad-call here!
Printed down below is Jeff Eats' 4/25/14 review- for a bit more color…
_____________
***** Pizza Chef Italian Bistro, 23269 State Road 7, Boca Raton, Florida 33428, (561) 477-5252.
You know…being in the restaurant business is an absolute bitch…
Jeff Eats' mantra–"You want to eat in restaurants, you don't want to own them. You want to eat in restaurants, you don't want to own them. You want to eat…
To make a long story short, way back on September 8, 2008 I told you guys about Tony's Authentic Brooklyn Pizza- a terrific "hole in the wall" mom & pop- red sauce Italian joint in Boca Raton. To make a long story short, Tony's and the "pizza guy" (don't recall the joint's name) who came after him–are no more. Jeff Eats has absolutely no idea as to why Tony's didn't work…what I do know is- that Tony's made real good pizza and other stuff.
Anyway,
About a year ago, Pizza Chef Italian Bistro opened where Tony's use to be. Based on a recent Jeff Eats' outing, décor-wise nothing changed–the joint seats 30. The one kitchen change, the Pizza Chef Italian Bistro installed a char-gas grill.
Jeff Eats and Mrs. Jeff Eats recently tried Pizza Chef Italian Bistro and I gotta tell you that this restaurant is GOLD! Now, not trying to sound melodramatic or nothing, but it's joints like Pizza Chef Italian Bistro that make being- Jeff Eats fun!
As expected, Pizza Chef's menu has the full boat of Italian pizzas, pastas, subs, entrees–but now for the kicker, it also has a ton of Argentinian dishes…Not sure on this, but Jeff Eats' money says the owners are "of" Latin/Spanish heritage and not Italian–but that's just a guess.
Anyway,
The recent eating- outing that I mentioned above- "netted" Jeff Eats, Mrs. Jeff Eats and another couple…cheese pizza, penne ala vodka, veal parmigiana, chicken marsala, zeppoles and I'm telling you–the stuff was delicious. For those of you wondering, Pizza Chef Italian Bistro has soup/salad-entrée-pasta side "specials" galore and neighborhood pizza joint prices. Oh! before I forget, we also had meat and cheese empanadas that were off the chart and a char-grilled sausage sub that I'm sorry I shared with my friend Norman
Pizza Chef Italian Bistro is a winner. I am telling you, go there! You'll thank Jeff Eats for the heads-up!
Just so you know, your tee shirt/shorts- ensemble is the dress of the day.
Pizza Chef Italian Bistro is open Tuesday-Thursday 11am-9pm, Friday-Saturday 11am-11pm, Sunday noon-9pm, closed on Monday.