Deli Man
* Deli Man.
Jeff Eats has seen- Deli Man and it's terrific.
The film opens tomorrow, Friday-February 27th in select South Florida theaters (see list down below)…Right about now, some of you guys may be saying- Hey Jeff Eats, if the film is first opening tomorrow how'd you already see it? To you guys, I say, I know somebody!
Let me wrap this up for you, if you love, like, hate "Jewish" delicatessens- you will love this fast paced documentary that explains why every 9-days or so, Jeff Eats craves -a pastrami with a shmear of chopped liver on rye!
Go see this movie, it's fun!
delimanmovie.com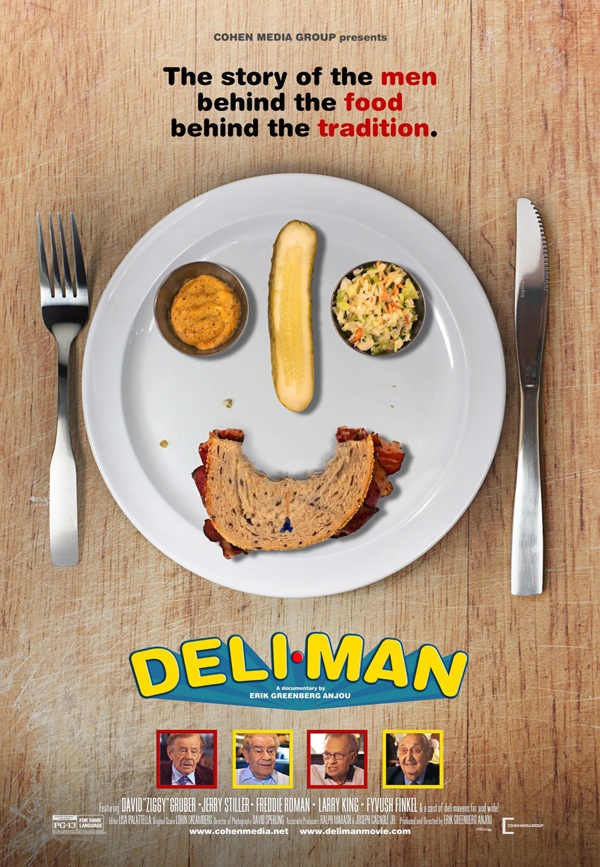 THE FILM "DELI MAN" SERVES UP A HEAPING ORDER OF DELI SPECIALS WITH A SIDE OF JEWISH CULTURE AND HUMOR FOR ALL!
FILM "DELI MAN " Opens February 27th at these area theaters:
Miami-Dade: AMC Aventura 24-Aventura, AMC Sunset Place24-South Miami, Cosford
Cinema-Coral Gables
Broward: The Classic Gateway Theatre-Ft. Lauderdale, The Last Picture
Show-Tamarac
Palm Beach: Regal Shadowood 16-Boca Raton, Living Room Theaters-Boca Raton,
Movies at Delray, Movies at Lake W
"Jewish culture reflects the heart of a vital ethnic history. As that culture
continues to shift and adapt alongside mainstream America, delicatessen food –
as its name suggests – remains a beloved communal delicacy."
Director Erik Greenberg Anjou's "Deli Man" is a lively new film about
delicatessens that will especially appeal to S. Florida audiences. In fact,
Ben's Kosher Delicatessen (S. Fla. has its own in Boca Raton) is one of several
delis featured in the film! This "reality show" styled documentary is a
fast-paced, fun-filled look at the men behind the food, behind the tradition of
the deli!
Third-generation deli man Ziggy Gruber moved from NYC to Houston, Texas, where
he built arguably the finest delicatessen restaurant in the United States.
Ziggy's story – augmented by the stories of iconic delis including Katz's, 2nd
Avenue Deli, Nate 'n Al, Carnegie, and the Stage – embodies a tradition
indelibly linked to this savory, nostalgic food now enjoyed by mainstream
America.
"Deli Man" also features appearances by famous deli-lovers Larry King, Fyvush
Finkel, comedian Jerry Stiller and others. This film offers a revealing
behind-the-scenes look at what it takes to serve plate after plate of
jaw-dropping pastrami sandwiches, big crunchy garlic pickles, and steaming hot
matzo ball soup to hungry, discerning diners … who speak their mind about the
food! Filled with raucous humor, "Deli Man" provides insight into the hectic,
crazy lives of the men who run these restaurants, and made them famous.
Scene after mouthwatering scene is filled with succulent brisket, golden baked
chicken, overstuffed sandwiches with grainy mustard, and other delicacies that
will prompt foodies and film audiences alike to rush out to their favorite deli
… with new found appreciation for the "Deli Man"!